One of my favorite horror characters of all time is Tommy Jarvis, as portayed by Corey Feldman in Friday The 13th Part 4 : The Final Chapter, my fave installment in the franchise. Nothing against the other two Jarvis', but Tommy was at the height of his cool when he was a kid, making masks and still dreaming of one day becoming the next Tom Savini (the character was in fact based on Savini, who returned to the franchise in Part 4 to effectively kill the monster he created in Part 1). Tommy is just too cool for school, as evidenced by the fact that he killed Jason Voorhees when he was but a small child, something most full grown adults have failed miserably at doing.

In any event, mask and bust makers have for years churned out kickass Jason Voorhees pieces, which I will admit have gotten a little old and boring over the years. How many of them can ya really see before they're just not that exciting anymore? Well artist Eric Scherer recently decided to do a little something different and create a bust from the Friday universe that has never been seen before. Remember that alien mask that Feldman rocks in Part 4, which is again briefly seen in Part 5? Well Eric has just whipped up a latex bust of Corey Feldman wearing that mask, which is just about one of the coolest and most unique things i've ever seen in my many years of scouring the globe for cool and unique things. Check this bad boy out!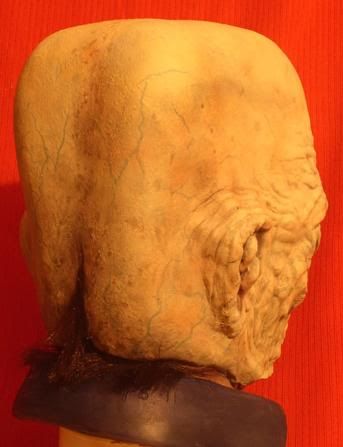 As far as I know only one of these was made so we can't actually buy our own just yet, but something tells me that will change if enough people show interest. I don't know about you, but i'd pick one of these up faster than your imaginary computer can tabulate that i'm a dead fuck!

Take some notes, mask makers of the world. The market is already flooded with Jason masks/busts. How about we give some love to folks like Crazy Ralph, Jack Burrel, Jimmy Mortimer and that fat curly haired dude who couldn't get laid? Let's mix some shit up a bit!