Over the past several weeks i've made a couple posts about Wax Eye's Cereal Killer trading cards, which recently went up for sale on their website. Combining horror movies with popular breakfast cereals, the cards are a funny and clever take on the Wacky Packages cards many of us probably remember from our childhoods. Lampooning everything from Black Christmas to The Grudge to Silence of the Lambs and featuring awesome and highly clever and detailed artwork by artist Joe Simko (who has done art for both Garbage Pail Kids & Wacky Packages), these cards are in my opinion one of the coolest horror products on the market today, a super fun throwback that feels straight out of the 80's.

As a result of my pimpage, I was contacted by Wax Eye with a giveaway proposal, which I am absolutely delighted to be presenting to you guys here tonight. Most exciting of all is that Wax Eye didn't merely supply a pack of the cards for the giveaway. Oh no, it's much more of a treat than that. What arrived in my mailbox yesterday, housed inside a massive poster tube, was a 40"x28" uncut sheet of the entire 55 card series! A picture could never do this beauty much justice, but just to give you an idea of what you're playing for, I snapped one for ya anyway ...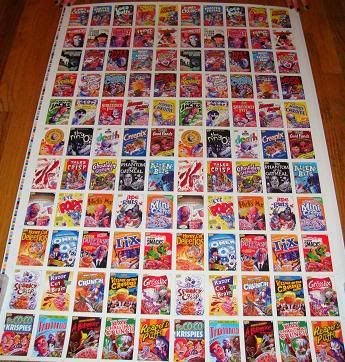 This is the entire set of cards, in their pre-cut form. Each card in the series is on here, twice each in fact. On the back are the backs of each individual card, which feature fun little games, activities and other odds and ends. What makes this so cool and special is that aside from giveaways like this one, the only way to get your hands on one of these is by buying three or more cases of Cereal Killers cards ($224.55 a piece), and even that offer is only available for the first 50 people who do so. How cool is it that I get to give one away to one of you fine readers absolutely free of charge?! I don't know about you, but that makes me all kinds of giddy. In addition to being an incredible display piece, this is also a pretty kickass collector's item, one that i'm highly jealous to be giving away!

To enter to win this uncut sheet of Cereal Killers trading cards, which ensures you get the whole set in one fell swoop, leave a comment below with your e-mail address and the name of one of the spoof cereals (other than Exorcrisp, ya lazy oaf) featured in this line of cards. I could let you hunt the interwebs for this info (assuming you can't make out the titles on the picture I posted), but i'd rather give you a big ole hint. "Like" Wax Eye over on Facebook and then check out their photos on there. One of those images is of the checklist featured on the back of some of the cards, which lists all 55 cereals. Pick one and type it in the comments section below. And again, be sure to include your e-mail address so i'll be able to contact you once you win!

Deadline for entries is one week from today on Wednesday, May 25th, which means you have through that whole day to enter. Giveaway is open to everyone, everywhere.

"PLEASE NOTE: All prizes are awarded "as is". Wax Eye is not responsible for possible distress to the uncut cardsheets. We are shipping them at the same level of quality that we received from the printer. Uncut sheets are gifts and we are happy to offer them as a thanks for people's support."