If you missed the first collection of 10 awesome behind the scenes photos that I posted last month, go back in time and check 'em out before you gaze your eyes upon this brand new batch!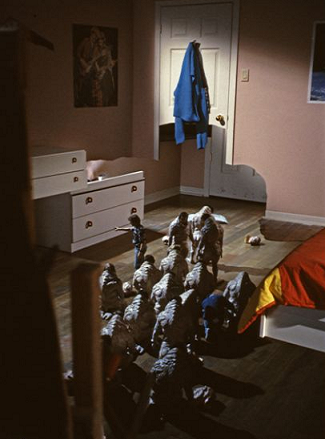 THE GATE

This is one of my favorite behind the scenes shots i've come across in my travels because it really showcases movie magic at its finest. While many of the scenes of the creatures from the film were done with miniatures and stop motion animation, some scenes were also done with real actors in creature suits, who were made to look miniature through the use of larger than life sets. Yep, those are full size human beings down on the floor there. This particular photo is from the amazing scene where the zombie dude falls to the ground and breaks up into tons of little Gate creatures. Goddamn I love that movie.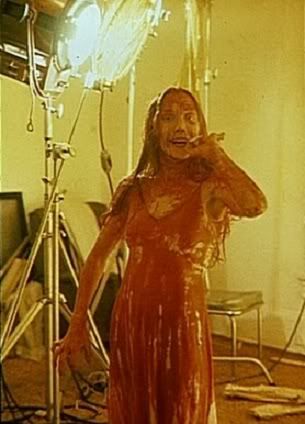 CARRIE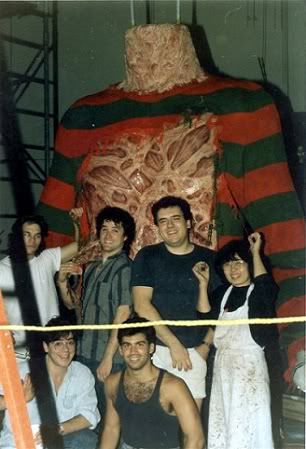 A NIGHTMARE ON ELM STREET PART 4 : THE DREAM MASTER

Remember the scene at the end of the film where a whole bunch of souls rip and tear themselves out of Freddy's torso? Well this is how that scene was pulled off. A massive Freddy torso was constructed and real actors were placed behind it, who pressed against it to appear as if they were emerging from it. As a related little factoid, did you know that scream queen Linnea Quigley portrayed one of those souls? When you see a pair of nude breasts pushing through Freddy's torso, that's Linnea. Yep, even in such a small role she still managed to flash the goods. God bless her!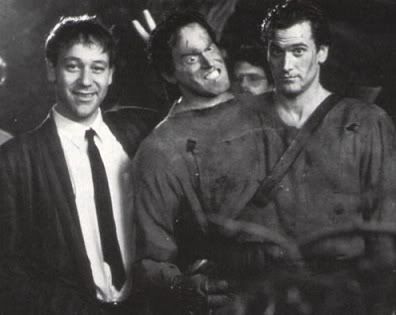 ARMY OF DARKNESS
PUMPKINHEAD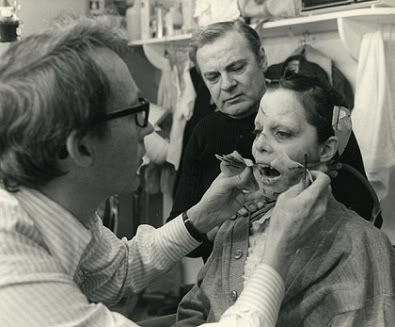 THE EXORCIST

Nope, that's not Linda Blair. A few of the scenes of Regan as a full on demon were actually performed by an actress by the name of Eileen Dietz. Dietz also was the frightening face of the demon Pazuzu, which flashes subliminally on the screen throughout the film. This shot shows makeup FX legend Dick Smith affixing a tube to Dietz that allowed her to iconically spew split pea soup all over the set and her fellow actors.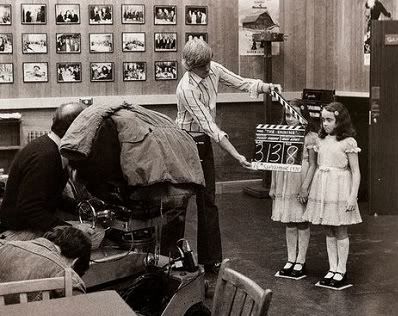 THE SHINING
RE-ANIMATOR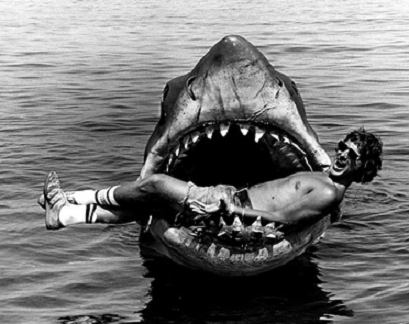 JAWS

A true director wouldn't expect anything of his actors that he wouldn't dare do himself!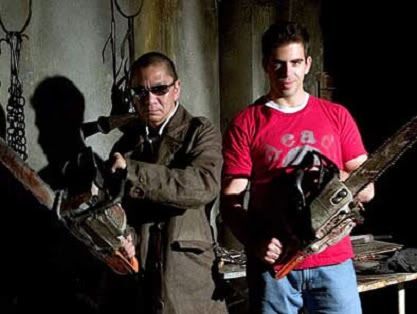 HOSTEL

Two of the most twisted filmmakers of our time, Takashi Miike and Eli Roth, together in one room and both wielding chainsaws. Now that's a Kodak moment in horror heaven!