I know Amityville Week is over and I know I said I wouldn't talk about anything to do with Amityville Horror for a while but bear with me a minute. This is just too interesting to not mention ...

Tonight, after a drink and some wings at a local beach bar, Jen laid out plans for the rest of our night that were music to my ears. She slapped on her Jaws t-shirt and suggested we grab some booze and bust out the Jaws DVD. Now that's my idea of a Friday night! This is exactly how our night was carried out and yes, she totally got air during the scene where the decapitated head comes through the hole in the boat.

Now i've seen Jaws countless times over the years, including once on the big screen with Roy Scheider himself in attendance, but I noticed something pretty shocking during this viewing that I had never noticed before. After doing some research online just now after the movie ended, i've found not a single soul who seems to have noticed it either, so I figured it was worth a mention. Check out what I spotted around the 33 minute mark, during the scene where a shark which is obviously not the shark is caught and killed!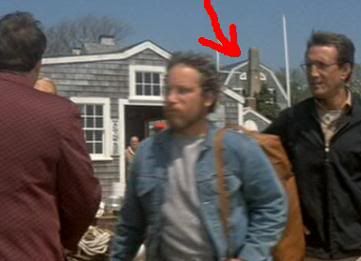 Is it just me or is that the Amityville house in the background? From the windows to the chimney, it's a dead on lookalike and I can't imagine there are too many houses out there, if any, that look like that particular one ... I know i've never seen any. Now what's real interesting about this is that the book Jaws, which the movie is based on, takes place in the fictional town of Amity Island in the real life Long Island, the same island that Amityville resides in (and the island I live on!). The book was loosely based on real life shark hunter Frank Mundus, who was from Long Island, though in the movie Amity Island is not in Long Island but rather somewhere in New England. Jaws was filmed primarily in Massachusetts, which pretty much rules out this house being the actual Amityville house, even though it not only looks just like it but also fits right in with the fact that the Ocean Avenue house is right on the water. To make things even more peculiar, Jaws was filmed in 1974, with filming wrapping in September, which was one month before Ronnie DeFeo murdered his whole family and made the town of Amityville infamous. Apparently, from what I understand, Peter Benchley even came up with the fictional town of Amity by looking at a map of Long Island and spotting Amityville.

Now i'm really not sure what i'm trying to say here, if anything, but I found this pretty damn interesting and a bit spooky and i'm surprised I never noticed it before. How coincidental is it that there's apparently a house in Massachusetts that looks just like the Amityville house and that it appears in the background of a movie that takes place in a fictional town named after the real town on Long Island where Amityville resides? And that the movie was filmed the same year, just one month prior, to the Amityville murders? Cue Twilight Zone theme ....

On that note. I'm tired and I want to go to bed. Just had a drink about an hour ago and it went right to my head.