What do you call a themed week on a blog without a kickass giveaway that fits nicely along with that theme? Luckily for you guys and gals, I call that pretty damn lame. So let's do something about it, shall we?! What i've got up for grabs is a little Amityville prize package that I put together for ya, which consists of the following items :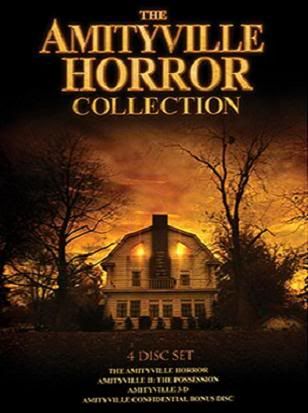 1) The Amityville Horror four disc DVD collection, which comes housed in a nice little keepcase and consists of the three Amityville flicks that actually take place inside the infamous house; The Amityville Horror (with special features), Amityville 2 : The Possession and Amityville 3D (in 2D). The fourth disc is called Amityville Confidential and has two different History Channel shows about the real case that made families afraid to go to sleep in their own houses as well as an on location first look at the Amityville remake, which is nowadays of course a little dated but still gives you some behind the scenes stuff from that one to check out. This makes not only a great addition to the collection of any Amityville fan, but also the perfect introduction to the franchise for those who haven't yet experienced it.



**Pictured here is my beat up copy of the DVD set, not the one you'll be getting. The one the winner will receive will of course be brand spankin' new**

2) The winner will also receive this one of a kind action figure of Jodie the pig, as seen in the original Amityville Horror. Okay, so it's just a little cheap pig figurine I bought from my job for 3 bucks (minus my employee discount) with crudely painted red sharpie eyes, but you know you want it regardless (especially given that it has what apppear to be human boobies). I can't guarantee that having Jodie in your possesion won't bring some devilish shit to your household, so don't say I didn't warn you.

If you'd like to take this prize package home, you're gonna have to be a little creative. I want to have a little fun with this thing, so here's what you've gotta do to enter ....

I want you to come up with your own plotline for the fictional Amityville : Part 9. In keeping with the theme of the post-part 3 Amityville flicks that saw filmmakers desperately trying to keep the franchise going after the house was blown apart in three glorious dimensions, I want your plot to be as silly and lame as possible. I mean it. After 3D we saw the filmmakers use possessed lamps and mirrors from the original house in order to try and keep the franchise alive, and making money, and I want to hear YOUR totally absurd pitch for the next installment. Whether it be a hammer that was used to build the house absorbing its evil essence and turning into a killer construction tool or Jodie the pig ending up being used to make a delicious pulled pork dinner that results in an entire family becoming possessed by the Devil himself, I want you to just have fun with this one and let your imagination run wild. The most clever and ridiculous plot wins, simple as that. Leave all submissions in the comments section below and be sure to include your e-mail address!

So put on your thinking caps and have a blast with this. The giveaway is open to everyone and will run through the end of the week. The winner will not only be sent these two awesome prizes but their winning plot will also be published right here on Freddy In Space for all to see!!