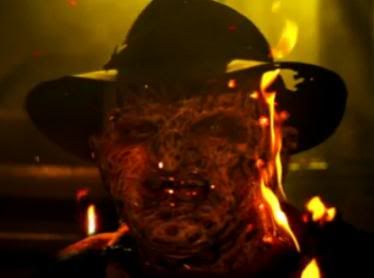 Don't worry, I didn't come on my little soapbox here tonight to once again hate on the awful Platinum Dunes Elm Street remake .... which Dunes producer Brad Fuller recently even sorta discussed his dissapointment with. I've been there, i've done that, and i'm getting tired of talking about it. But there is something I have never mentioned. Something from the past that a fan whipped up, prior to the redux being made, and I wanted to bust it out of the vault for anyone who may have missed it back then.

Before a writer/director was attached to the Elm Street remake, a fellow by the name of Christopher Johnson, a lifelong Krueger fanboy and visual effects artist who worked on films such as Final Destination 3 and the recent Battle : Los Angeles, hoped to sell Platinum Dunes on him being the man to bring Freddy back to the big screen, via the use of a fan made concept trailer depicting his general vision. When those dreams were shattered by Samuel Bayer being announced as the director, Johnson shifted gears and decided to use said pitch video as an audition of sorts for the lead role in the Bayer directed remake. While a really cool way of getting himself out there, which garnered a lot of press and positive support, the odds were stacked against Johnson from the beginning and thus, he never ended up having any involvement in the actual movie.

But a fanboy can dream and Christopher Johnson dreamed big, completing the pitch video for his version of an Elm Street remake and delivering a short trip to the infamous street through his eyes that is in retrospect looking pretty damn good compared to what Bayer got paid to churn out. Obviously it's impossible to tell whether or not Johnson could've directed a quality full length movie, but he's got some great things going for him in that ole noggin of his and he managed to do one major thing right that Bayer & Co. somehow weren't able to do, even given all the money at their disposal; make Freddy look cool and be scary again. Again, though i'm not gonna go so far as to say that Johnson definitely could've done a better job than Bayer, as there's not enough to go on to be able to tell, I will say that I will take his version of Freddy as a vicious monster who is not only completely burnt but also flaming like a yule log over the Jackie Earle Haley turtle faced Freddy any day of the week.

But enough of my babbling. Check out Christopher Johnson's Elm Street concept teaser for yourself!



Thoughts?

Check out the blog for the project, which shares some more information about it as well as behind the scenes videos, scoop on what Johnson is up to these days and a nice little video wherein he talks about how his love for Freddy started and even shares some clips from old Elm Street fan films he made when he was younger!