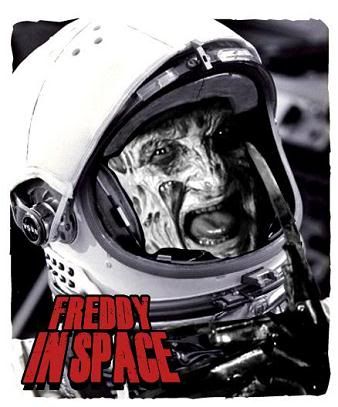 *Thanks to Anthony Catanese for the art!*

I find it hard to believe that i'm actually typing this right now, but it is with utmost excitement and amazement that I inform you that today, June 25th, marks the third birthday of Freddy In Space. It was exactly three years ago now that I started this blog and i'm honestly shocked that i'm still chugging along and that I still have the same desire and enthusiasm to write up new posts as I did back then. I am not the kind of person that generally sticks with things and the fact that i've been doing this for so long really shows me that it's something I was always meant to do.

In the past three years, this blog has completely changed my life, introducing me to incredible new friends and providing an outlet to voice my opinions about the genre I have always loved as well as truly making me a part of the community I belong in. It never ceases to shock me when I get e-mail's from readers who tell me how much enjoyment they get out of the crap I write or to be recognized at conventions by people who dig what I do and I really can't believe that all of that love has come from the little decision to sit down at the computer three years ago and start a horror blog. In a blogging world so jam packed with horror blogs that it's pretty damn hard to stand out, I never in a million years would've thought that little old me could ever make my mark on the scene. Not to pat myself on the back, because i'm certaintly not one to do that, but I am head over heels proud of myself that it seems I indeed have. The hundreds upon hundreds of hits I get per day and over thousand fans that the Freddy In Space page on Facebook has, along with the e-mail's and comments I get on a daily basis prove this point to me. I cannot thank each and every one of you enough for sticking with me and for always reading and commenting on the stuff I am putting out there.

Though i've made less money doing this in the past three years than I make in just a couple days at my day job, the rewards this blog have afforded me over the years are far greater than monetary ones. So on this three year anniversary, at the risk of coming off like i'm praising myself for all my hard work, I wanted to take a look back at some of the coolest things that being a member of the horror blogging community has brought into my life over the past few years, whether it be experiences, friendships or opportunities. So come with me on this journey through the past and then we can all look forward to the future, which hopefully contains many more years of blogging to come!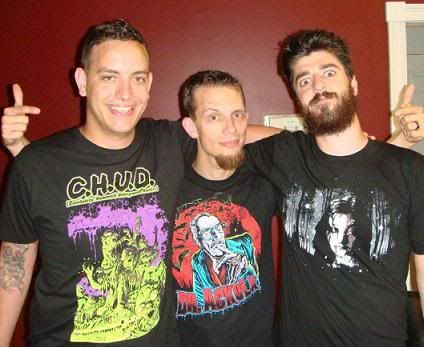 - THE FRIENDS I'VE MET

The most rewarding thing that has come from doing this are all the friends that have come into my life because of it. I don't want to list names (Kristy, Zach, Terry, Geof, Adam!) because I don't want to leave anyone out and also because there are far too many to list, but you guys and girls know who you are. If I had never started blogging I probably would've never gotten to know most of you and it's for this reason that i'm so glad I did. I love you all.

- BEING PIMPED ON IMDB ... THREE TIMES!

IMDb has a feature on the main page called the 'hit list', where they post a few articles each day from other sites that they deem worthy of reposting. On three seperate occasions, one being on Halloween weekend (hit list items added Friday stay all weekend), posts of mine were featured on there, which each bringing thousands upon thousands of hits to my neck of the woods. Even cooler than the hits though was just the fact that my little blog was even mentioned on a HUGE site like IMDb that I have always visited on a daily basis. I really felt like I 'made it' the first time I was linked to on there and I could never properly communicate how exciting it was for me to be featured on there for the entire duration of a Halloween weekend a couple years back (for my post on The Many Masks of Michael Myers).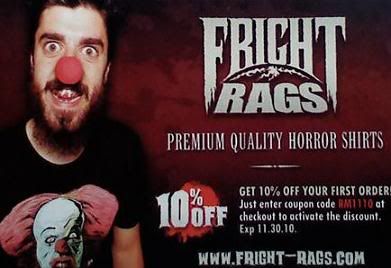 - BEING FEATURED AS A MODEL IN A FRIGHT RAGS AD

I always feel like a lot of people think i'm constantly pimping Fright Rags simply because i'm friends with the people that run it/work for it. While it is true that I am friendly with those guys and gal, that is not actually the whole story. I was a fan of Fright Rags wayyyy before I ever knew any of the people involved with it and it was through my constant blogging and pimping of their stuff that I actually became friends with them, starting with Kristy Jett, who is now one of my best friends in the world. Kristy was a reader of my blog and when she started working for Fright Rags, we ended up striking up a friendship through the convention circuit, which led to friendships with Fright Rags owner Ben and fellow worker Tim. So we actually became friends through mutually liking each other's stuff. That's something i've always wanted to clear up because I don't want anyone thinking i'm all over their shit just because i'm friends with them. I'm all over their shit because I love their shit, though the fact that they're all such awesome people certaintly doesn't hurt. The photoshoot for this ad that took place one weekend last year is one of the highlights of my life and my jaw crash landed on the floor when I saw that the picture of me as Pennywise (makeup effects by Jen!) ended up in an issue of Rue Morgue Magazine. One of the shots of Jen, channeling Shelley Duvall, later popped up in an issue of HorrorHound.

- BEING INVITED TO A PRESS SCREENING OF REC 2

This was my very first invite to a press screening and my excitement about it wasn't even so much due to the fact that i'm a huge fan of REC. I don't like to admit this, but when I first started blogging I was into the habit of illegally downloading movies every so often. I wasn't huge into it, and probably downloaded a grand total of less movies than I have fingers and toes, but I will admit that I did it from time to time. Usually it was done so that I could see movies before they were released onto DVD and thus, get a leg up on other bloggers by providing early reviews of movies most people weren't able to see yet. I know a lot of other bloggers these days still do that, but it's something I am strongly against and will never do again. In any event, I downloaded a copy of REC back in the day, being that there was no other way for me to see it at the time. So to be invited, a couple years later, to a press screening of the sequel really made me feel like I had finally become a legit blogger. From illegaly downloading a copy of a movie to being invited to an advanced screening of its sequel ... ya really can't beat that! Oh and by the way, once REC did come out on DVD, I immediately shelled out the money to buy a copy, so I want it to be known that I always made things right even when I was committing illegal and damaging acts to filmmakers!



- THIS VIDEO

Holy shit, I still can't believe this actually happened. I have been a HUGE fan of Adam Green, both as a person and a filmmaker, for years and when I saw this video I nearly shit my pants. As proof of what I said earlier about Kristy being one of my best friends, she met Green at a convention earlier this year and, knowing how much I dig him, asked him if he would film a video giving me and my blog a shoutout. Proving how much of an awesome guy he is, he actually took his time to do it which is way too awesome for words. I have to pinch myself everytime I watch this video. Another highlight of my blogging career, related to this, was my interview with Green back in 2008. It was because of this interview that this next awesome little moment came into my life ...

- JOE LYNCH READS MY BLOG!!

2008. I come home from voting for Sid Haig for President (yes, I really did) to find an e-mail in my inbox from Joe Lynch, one of Adam Green's best friends and another guy i've always been a huge supporter of. In the e-mail he thanks me for all my support and tells me that he loves reading my blog. Here's a little excerpt from the e-mail that still to this day serves as a great deal of inspiration to me ...

"I just wanted to say THANKS SOOO MUCH for the support on Freddy In Space! I love the blog since Green turned me onto your site."

So not only did Adam Green turn Lynch onto the blog but Lynch himself dug it? That put such a smile on my face. To find out that two people whose work I love also dig what I do meant so much to me. I e-mailed back and forth with Lynch for a bit that night and he went on to say, "I read FIS all the time...or whenever I get a moment to read anything other than a script or a TPS report. Please keep up the hard work; its great to read real responses from real people...our people, if you will." Whenever I get down on myself or lose the inspiration I need to continue plugging away at this, I think back to these e-mail's and am immediately refueled with healthy doses of inspiration. So thank you Adam and Joe both for everything you've done for me, no matter how small it may seem to you guys.

- TALKING TO THE DAD FROM TROLL 2 ON THE PHONE

I've interviewed a bunch of people whose work I love over the years but my very first phone interview came earlier this year courtesy of one of the nicest men on the planet, George Hardy. I was nervous as hell but Hardy instantly calmed me down with his laid back and friendly nature and I got such a kick out of chatting with him on the phone for a good 40 minutes. It all started by me Facebook'ing George after seeing Best Worst Movie for the first time (wherein I fully fell in love) and asking him if he'd be up for a little interview. He replied by giving me his cell phone number and telling me to call him sometime. Though my poor phone call recording skills at the time made the recording come out pretty poorly, I will never forget that 40 minute time span shooting the shit with the dad from Troll 2. Surreal doesn't even begin to describe it!

- THE RESPONSE MY FRIDAY THE 13TH MEMORIAL POST GOT

Back in 2009, hot on the heels of the Friday remake hitting theatres, I decided to do something special and different, which took form as a memorial tribute post to all of the Friday The 13th franchise stars who are no longer with us. I actually initially made the post on another site I was writing for at the time called Benevolent Street, but reposted it Friday the 13th of that year on here. The post garnered a ton of attention and was reposted on several sites, including FridayThe13thFilms.com, a site that is devoted entirely to the series. I've always considered the post to be one of my greatest contributions to the horror blogging scene, which is mostly due to the fact that it really seemed to put a smile on the faces of friends of the fallen stars and it truly felt like my writing skills in that moment were being put to good use. Here is one of the messages I received from a friend of the late Tom McBride, who appeared in Friday Part 2 as the wheelchair bound jock Mark. I believe this was left as a comment on the reposting of the article at FridayThe13thFilms.com ....

"I have always thought it would be a good idea, and a warm way of remembering "Friday The 13th" actors and actresses who have passed away. Being Tom McBride's nursing assistant, he and I became friends. He would talk about being in commercials, modeling, and movies. I was a fan of the "Friday The 13th" series, and Tom would spend lots of time talking about the interview to land the role, the setting/scenes, and working with the other actors. When I went to take Tom's vital signs one morning, there was a machete laying on the chair beside his bed with his signiture. Tom was funny, energetic, and always made a friend. I remember him telling me that his wish before dying is for people to remember him not from AIDS, but as someone who made someone smile, laugh, and made a friend. He told me that it would be neat to be remembered as "Machete-Face". He laughed and said he should have been the one to come back and be a horror icon like "Jason" and "Leatherface". So when I think of my friend, I can't help but to think of ol' "Machete-Face"." - Gary

Also got a comment from the aunt of another one of the deceased stars, which again really touched me. Don't know that i'll ever top this post and the impact that it had.




- I SCOOPED THE SCOOPERS!

Last but not least we have the most recent little thing that gave me nerd excitement, which went down earlier this month. I caught wind of a Killer Klowns sequel over on Facebook and I dropped a line to the man behind it (and star of the original film) Grant Cramer, who scooped me on all kinds of details about the sequel that up until that point nobody else on the net knew about. The post I made about it ended up spreading all over the internet and giving the film a ton of support and notice thanks to the fact that all of the big horror news sites reported on it, crediting me for the scoop. Naturally it brought hits and attention back to me but the coolest thing about it was being the guy who was able to really kickstart all the horror community excitement about the impending sequel. Given that i've always been a HUGE Killer Klowns fan, I was incredibly happy that it was that movie that I was able to scoop the scoopers on. Definitely another 'i've made it' moment.

While there are tons of other awesome things that this blog has brought into my life, these are the major ones that I scooped right off the top of my head. Hope you had as much fun reading them as I did reliving them and I sure as hell hope you continue reading. If you promise to do that, I promise to keep on blogging!