I'm not the kinda blogger who's into posting about press releases I get e-mailed but I just got a pretty damn exciting one tonight and I absolutely must comment on it. Ya know that indie film Evil Things that i've raved about on several different occasions over the course of the last couple years? Allow me to refresh your memory ...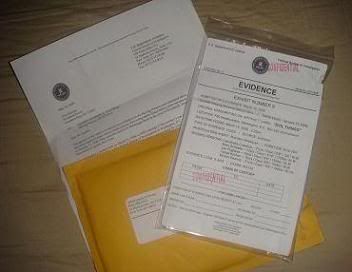 Over two years ago now, back on May 20th of 2009, a mysterious envelope appeared in my mailbox. Inside was a letter from the FBI, informing me that several people had recently went missing back in January of that year in New York. The letter explained that video footage the kids shot had surfaced and that they wanted me to check it out and let them know what I thought about it. After initial fears that the real FBI thought I had some connection to a real murder case wore off, I realized this was merely an extremely clever marketing ploy for a new indie found footage horror flick. Naturally, based on how awesome a job it was marketed, I immediately popped it in my DVD player.

To my surprise, I absolutely loved it (click for my full review from back then).

So began my quest to get Evil Things seen by as many people as possible, starting with my fellow horror bloggers. Director (and former Wall Street banker) Dominic Perez and I chatted back and forth through e-mail and I ended up sending him a list of bloggers and their addresses, who he graciously sent screener copies out to. Soon enough, I began to see reviews popping up on all of my favorite horror blogs. Good reviews at that. Evil Things was gaining some serious momentum and I just knew somebody would soon pick it up and distribute it to the world.

A couple years later, here's the press release that just popped up in my inbox ...




For Immediate Release — It's a birthday celebration no one will ever forget in Evil Things, on DVD August 9, from Inception Media Group.

Five college friends plan a road trip to celebrate Miriam's 21st birthday during a snowy weekend out of the city at a beautiful, remotely located country home. In the mood to party, Cassy, Mark, Tanya and Leo bring the beer, as well as aspiring filmmaker Leo's new video camera.

But excitement soon turns to panic and 48 hours later, they've all vanished, leaving investigators without a single clue … until now. What Leo captured on video is no tranquil getaway but a sinister and nightmarish descent into terror.

From exciting new filmmaker Dominic Perez and in the tradition of Paranormal Activity and Quarantine, this riveting, critically acclaimed film – a pulse-pounding, twisting game of cat-and-mouse until its bone-chilling conclusion – will take you to the edge … and beyond!
_______________________________________

As awesome as this news is, there's one thing I want to clear up and it's something I knew was going to be mentioned once the film finally hit DVD. While Evil Things will naturally be compared to a film like Paranormal Activity by most, I must note that I saw it in May of 2009, five months before PA hit theatres in October. I'm not saying this is the very first handheld horror flick by any means, but I just want to stress that fact to let ya know that this isn't just another ripoff of Paranormal Activity. It would truly be an injustice to think that and I kinda wish the press release didn't further this belief.

When Evil Things hits DVD on August 9th, i'll be sure to post a reminder. For now, you can pre-order it over on Amazon!

For more information about the movie and to check out a trailer and some highly positive reviews from fellow bloggers, head over to the official website.

Congratulations, Dom. I hope and believe that the whole horror community will soon embrace your flick as much as I did. I feel very lucky to have been a part of this from the very beginning.