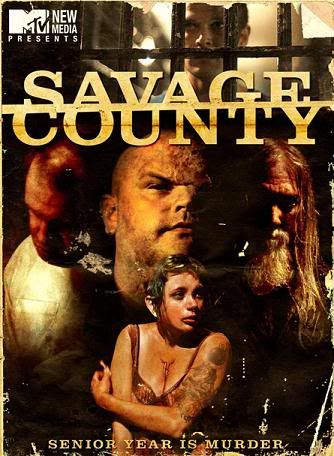 RELEASED MAY 31ST ON DVD!

Patrick and his friends should never have set foot on the Hardell family property. The stories are true, you see, and the Hardell's - Willard, Kasper and Orry - are not friendly towards unwelcome guests. And so after a dare gone horribly wrong, Patrick and his friends are on the run for their lives, the gruesome trio hot on their trail and out for blood.

Last week was a big week for MTV horror, with the series premiere of Teen Wolf debuting on Sunday night (haven't seen yet) and this film hitting DVD last Tuesday. From what I gather, Savage County was originally an eight episode web series that was then turned into a full length film due to fan demand, which originally aired on MTV2. This home video release is that film in its full uncut form, which was "too graphic for basic cable." Though the combination of MTV and horror isn't one that does anything to excite me, I went into this one tonight with all judgements set aside, hopeful that the company known for popular music and lame reality programming had something up their sleeve for us horror fans with this one.

... What the hell was I thinking?!?

Touted as "a thriller in the classic mold of The Texas Chainsaw Massacre, Hostel and Wrong Turn", Savage County possesses none of the qualities of those films, aside from the fact that it steals the format of those films and tries desperately to be like those films. But it's just not, no matter how hard it tries. So many filmmakers seem to be under the impression that all you need is a simple plot of young good looking kids stumbling into murderous savages to make a good horror film, which is unfortunately for them not the case. Quite frankly, I consider films like these to be an insult to people like Tobe Hooper and Eli Roth who actually cared about story and characters when they wrote and made the movies that crap like this is masquerading around as being similar to. Sorry David Harris, but you need to do more than steal ideas and execute them poorly to make a name for yourself in this genre or compare your work to much more superior films from the past. There's nothing wrong with borrowing ideas from movies you dig, as filmmakers like Rob Zombie have shown us, but at least bring some iota of something new to the table and at the very very least execute those borrowed ideas in a somewhat effective way.

Full of stereotypical villains, victims & ideas (the cops are in on it! gasp!) and devoid of any of the gore or cool kills that the "too graphic for cable" proclamation may lead you to believe, Savage County is nothing more than a generic and totally bland backwoods hilbilly horror flick, one that doesn't bother to do anything to seperate itself from the hundreds of similar movies that come out every single year. On top of that, it's those types of movies by way of MTV, which was a set up for failure from the word go and which also means that lame new music is crowbarred into the mix via the use of a character who feels totally out of place, playing tunes on her internet show that nauseatingly echo what's happening onscreen. Gag me. Being that teen girls generally don't like blood, guts and murder and horror fans generally don't like MTV programming, I can't see this film appealing to anyone that it's supposed to, if anyone at all.

Oh and i've had just about enough of the character being pregnant angle that so many lame horror movies utilize to cover up for bad writing. Nobody's being fooled into caring for a one dimensional character just because you tell us she's pregant. It aint that easy to create effective horror.

Though MTV and horror generally don't mix, did anyone else dig that show FEAR from back in the day? It's been a long time since i've seen it and it may not be as cool as it is in my memory, but I remember really liking that show back in the day. Wish they would put out a DVD so I could revisit it sometime.