If you do a search for the tag 'Dustin Sain' here on my blog, you'll find a plethora of posts wherein I am thanking that man for various things he has done for me, whether he's inspiring kickass posts, sharing a tour of his digs on the first ever episode of Horror Cribs or sending me some seriously awesome shit. Dustin is one hell of a generous and nice guy and it's meeting people like him that have made this whole blogging thing such a pleasure over the course of the past several years.

I just received the above mystery package in the mail today from Dustin and i'm about to bust it open and discover what lies inside. So let's find the closest sharp object and take a peek, shall we?!

First up, Dustin sent me a whole bunch of his horror VHS tapes, knowing how much I love them and realizing that he's not really doing anything with them. I know I said this was a mystery package but Dustin did let me know he was gonna unhaul some of his tapes on me. That said, I didn't know what tapes to expect. Here's what he sent my way ...




I just love old sun faded and beat up tapes of my favorite horror movies. Can't get enough. Doesn't matter that I own all of these on either DVD, Blu-ray or both, VHS is always my preferred format. The Phantasm tape is the real treat for me in here, as it'll look great next to my Phantasm 2 VHS, which was admittedly cooler before it became less rare when the film hit DVD, but I still love it nonetheless! Someday I will have a whole VHS memorial wall in my house, evoking the spirit of the old video stores, mark my words ...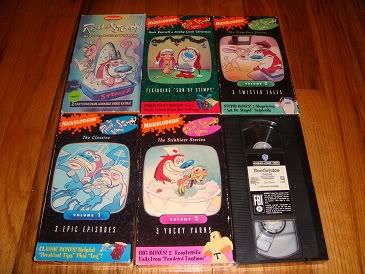 These are definitely gonna bring back some memories for me, being that I haven't seen Ren & Stimpy since I was a kid. These tapes earn extra cool points for being completely orange. They say they're due back by 7pm, but I think i'll keep them. Also in there is a Beetlejuice tape sans case.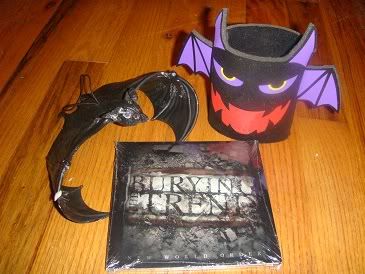 Rounding out the package were a little hangy rubber bat, a bat beer koozie and a copy of the band Burying The Trend's CD, New World Order. These guys are friends of Dustin's and i'm actually rocking out to them as we speak. I like!

Thanks Dustin, I really appreciate all the cool shit you go out of your way to do for me. Can't say that enough, my friend.