Despite the fact that it's one of the most marketable horror franchises of all time (with that iconic house and all), there are surprisingly very few Amityville Horror merchandise items out there, which probably has a little something to do with the fact that it'd be a bit taboo to release collectibles that are centered around a house which is best known, in real life, for being the location where an entire family was slaughtered to death back in the 70's. For this reason, I have never been able to track down any kind of scale replica model of the house, which is something i've always wanted to get my hands on. This week, after doing a little digging, I finally found what i've been looking for (take that, Bono) ...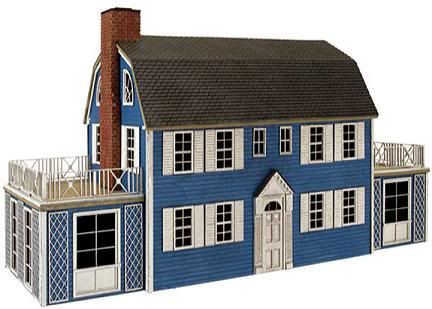 **Had to squish this image quite a bit to fit here on the blog. CLICK HERE for a better unsquished picture**

Though it's not specifically marketed as "The Amityville Horror House" this model from Atlas Model Railroad Co. is referred to as "Amityville Vacation Home" and is, of course, an exact replica of the house as seen in both real life and the original film. The color of the house in that picture is off, but the kit comes unpainted, so it's up to the buyer to paint it to look just right. The highly detailed laser cut wooden replica measures 9"L x 3.5"W x 4"H and sells for $79.95, which is the only thing holding me back from buying it right this very second. It's not that that's too expensive, as it's totally worth that price, but rather that my debit card currently can only cover the .95 cents portion of that cost. My birthday is coming up though, if anyone's looking to get me a little something!

Now come on, Mezco or NECA. Where's that George Lutz action figure, with alternate heads to depict his good to evil transformation?