This week's Tweet of the Week is more like a Twitpic of the Week and it comes from Todd Farmer, co-writer of My Bloody Valentine 3D & Drive Angry as well as the two timing naked bald dude in both of those films. Farmer is one of my favorite people to follow on Twitter and this past weekend he had some real gems. I guess on Saturday night he was hanging out with Tyler Mane (who played Michael Myers in the Rob Zombie Halloween's) and they were drinking potato vodka together in California and looking for Derek Mears (Jason from the Friday remake). It seemed like they had plans to hang out with Mears but couldn't track him down and from what I gathered they finally showed up to his house late in the night and toilet paper'ed it. Around five in the morning, Farmer tweeted the amazing picture below along with the following caption ...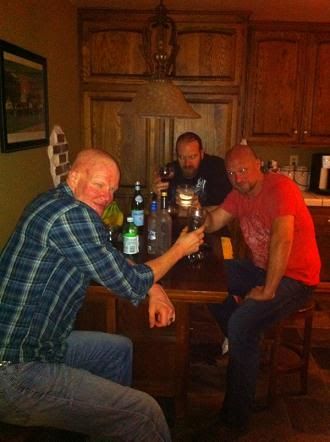 Two killers and a dick - @todd_farmer

It's Tweets like these that make Twitter so goddamn addicting. Now if I can only figure out how to get invited to one of these drinking sessions ...