It all started back in 2007. Nike announced that they were releasing three unique pairs of shoes as part of a "Horror Pack", just in time for Halloween. Inspired by Nightmare on Elm Street, Friday The 13th and Dawn of the Dead, the shoes never saw official release due to copyright issues (at least I know the Elm Street's never did even for a second), though many pairs of each have made their way on eBay in subsequent years, both HIGHLY expensive real ones and cheaper replicas. Take a peek at the three pairs below.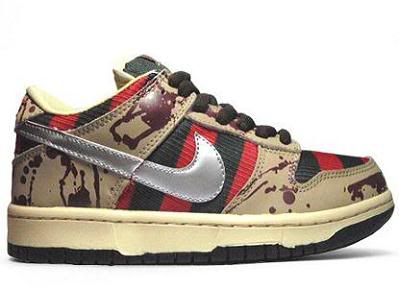 The coolest and most relevant to the theme of the bunch are the Freddy Krueger Nike's, which feature the trademark green and red colors, blood splatter and even a silver Nike swoosh that looks like one of the finger blades on Freddy's glove. In addition, the insole is made to look like Freddy's burnt flesh. Jen actually picked me up a pair of these a long time ago, before they were selling for upwards of $1,000 online, and I literally wore them to the point that they can't even be worn anymore. Goddamn, I love these things. Will probably pick up a cheaper replica pair in the future, being that I don't really care if they're the real deal or not. The amount of compliments I got while wearing these things never ceased to amaze me.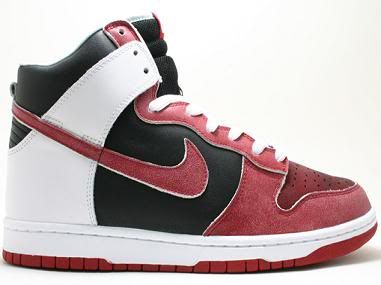 While they literally took the essence of Freddy and converted it into shoe form, Nike skimped pretty hardcore on the other two pairs in the set. Case in point, these Jason Voorhees inspired kicks, which I guess are supposed to look like his infamous hockey mask? Yaaa, kind of a stretch.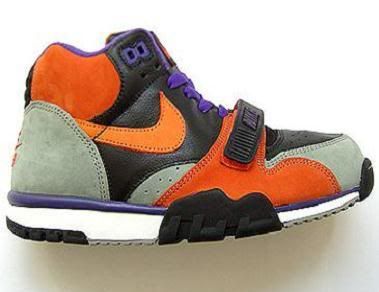 Nike again gave this last pair in the 'Horror Pack' the relevant to the theme in color only treatment, by taking the main color scheme from the original Dawn of the Dead poster and slapping it on these shoes. Again, it's a stretch, but the insoles apparently have a decaying zombie on them, which I guess is cool even if nobody can see it once you slip your foot into the shoe.

While those three pairs are the only official horror movie themed shoes that were ever conceived, aside from Nike's various Halloween inspired designs over the years, a lot of incredibly talented shoe customizers have put their talents to use to create their own horror movie inspired kicks, either as one shot deals or for sale to anyone willing to shell out the dough for them. Here are a few of my favorites!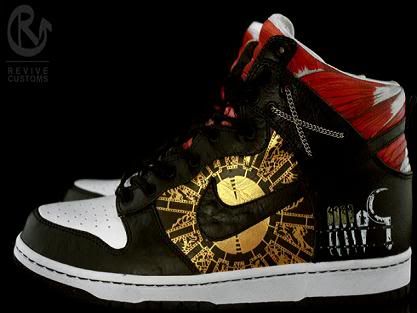 These mind blowing creations were whipped up by Revive Customs and feature pretty much everything Hellraiser is all about; the puzzle box, chains, torture devices and even a healthy dose of skinned human texture. On the sides they read, "I am in Hell. Help Me", written in blood. You can pick these up for around $80 on various sites around the net.




A few different pairs of custom Friday The 13th shoes have hit the net in recent years, presumably to make up for the lackluster ones Nike came up with. These ones done up by Sneak Fiend, which depict Jason Voorhees killing a hapless victim in comic book style, are definitely the coolest.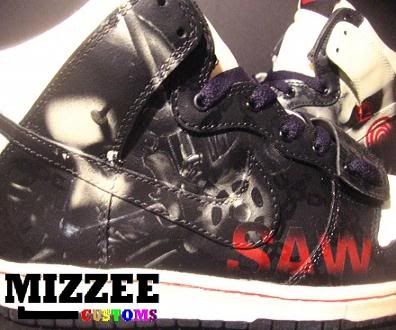 Mizzee Customs gave Saw the shoe treatment with this custom pair that has the iconic Billy puppet on one shoe and Amanda in the reverse bear trap on the other. Bet ya wish you still had two feet, eh Dr. Gordon?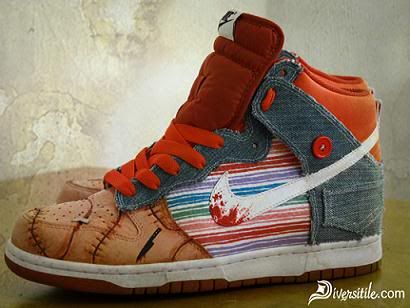 Last but certaintly not least, from the holy fucking shit files comes these highly detailed Chucky sneakers from artist Diversitile. They're literally Chucky ... as a shoe. If these things weren't amazing enough by themselves, the mad genius behind them also whipped up shoe boxes for them modeled after the boxes the Good Guy dolls came in.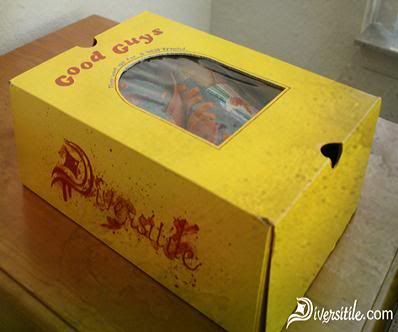 I believe Diversitile only made a select few pairs of these and even at several hundred dollars a piece, they all completely sold out pretty quickly. Not hard to see why!

For some other horror inspired shoes of a different sort, check out a post I made a while back about the company Sink or Swim Custom Kicks!