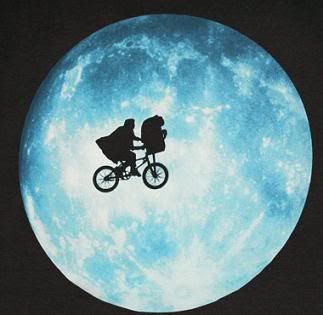 I started a discussion about this over on the Freddy In Space Facebook page earlier this morning which got me fired up and thinking all day and I wanted to ramble a bit more about the topic on here, being that i'm not limited in characters like over on Facebook. So some of you may have already read some of my thoughts on this, but bare with me because i'm feeling pretty passionate at the moment!

Those of you who read my review a couple days ago know that I not only saw Super 8 over the weekend but also completely loved it and in fact, couldn't help but shell out the dough to see it two nights in a row (this does not happen often for me). J.J. Abrams managed to make me feel like I hadn't felt since I watched Spielberg's older stuff, such as ET, back when I was a kid and for that, I have to consider Super 8 one of my favorite films I have ever had the pleasure of experiencing. It truly made me feel like a kid again and there aren't enough positive words I can say to show my appreciation for that.

That said, I was quite dissapointed to find that many of my fellow horror bloggers did not like Super 8 one bit and gave it quite scathing reviews on their blogs. Now don't get me wrong, I found most people I know enjoyed the movie as much as I did, but I was very surprised to see a lot of hate spewed towards it too. Believe me, i'm not the kind of person who thinks everyone should feel the same way I do about any given movie. Quite the contrary. Differing opinions is what makes the world go round. But what I noticed was a common thread with all of these negative reviews. It didn't seem like any of them had valid reasons for why the movie was so bad, instead focusing on and nitpicking tiny little insignificant details, plot holes and faults in logic ... all things that I personally hadn't even noticed. Not because i'm not perceptive, but because I was so swept up in the magic of the movie that I never questioned or wondered about the small things much the same way I never questioned or wondered how the hell Elliot and his friends rode their bikes in mid air in ET. It's a movie, not real life, and I can't help but be saddened by the fact that so few people seem to be willing to allow themselves to be carried away by the magic that is the movies these days, all but forgetting what it was like to watch a movie such as this one as a kid.

I think what it all boils down to is that people nowadays, kids included, have much more diminished imaginations than people did back when Spielberg was at the top of his game. Whereas back then everyone let the little things slide and let filmmakers like him sweep them off their feet, everyone nowadays seems to be focused on spewing hate and negativity and getting caught up in the implausability of the things that they see up on the big screen. Modern day kids especially, who movies like Super 8 are tailor made for, are given cell phones and Playstation 3's at such a young age and it seems like these things rob them of their childhoods, forcing them to grow up too fast and lose that childlike sense of wonder (thanks for that, Michael Cera) and imagination that those of us from the Spielberg generation grew up with. When I wanted to pick up a sword and do battle with the forces of evil, I had to grab the mightiest branch I could find in the backyard and pretend to do it. Nowadays, kids can just toss a disc in their Playstation, slap on some 3D glasses, and immerse themselves in what looks and feels like a real life battle, technology replacing all need for imagination. If they want to hang out with a friend they don't hop on a bike and ride a few blocks to their house like I did and go off on adventures together, but rather they hop on Skype or just call them on their brand new iPhones. It's quite frankly sad to see.

This taking over of imagination by the forces of technology has in my opinion negatively impacted both childhood and, as i'm here to rant about tonight, the magic of going to the movies. It seems that nobody can suspend disbelief anymore. Nobody can have fun. Nobody can feel the magic and allow filmmakers to transport them to magical worlds unlike our own. Now they hate. Now they question how Elliot's bike was able to fly. Now they laugh at how fake it looks while texting their friends and waiting till the movie ends so they can get back to their reality TV. The imagination is all but gone.

I guess what i'm trying to say is exactly what I was saying in my review; go see Super 8 on the big screen, allow yourself to be swept up in its magic, and try and remember what it was like to be a kid watching a movie like ET for the first time. If it's just not for you, that's completely fine. But don't hate on it just because unrealistic or improbable things happen in it. Afterall, why the hell even bother seeing a MOVIE in the first place?

This little blurb from the IMDb trivia page for Jaws just about sums all this up to a tee ...

Peter Benchley was not happy with Steven Spielberg's ending where the shark is killed when a compressed air tank explodes in it's mouth, claiming it was unrealistic. Spielberg defended himself by saying he will have held his audiences' attention for two hours and they would believe anything in the end no matter how unrealistic or unbelievable the ending really was.

There need not always be logic in movie magic.