Just a quick reminder that tommorow, July 5th, sees the much anticipated home video release of Jason Eisener's Hobo With a Shotgun, a film that I referred to in my review as "pure over the top fun from start to finish, out-Troma'ing Troma and playing out like an hour and a half long highlight reel of seriously depraved and highly entertaining shit." It's true, it's damn true. Hobo is the ultimate party movie, the kind of movie you should invite your friends over to watch while all you all get smashed. You will have an absolute blast, this much I can promise you. Hobo is available in three varieties, which i've outlined for ya below.


Single Disc DVD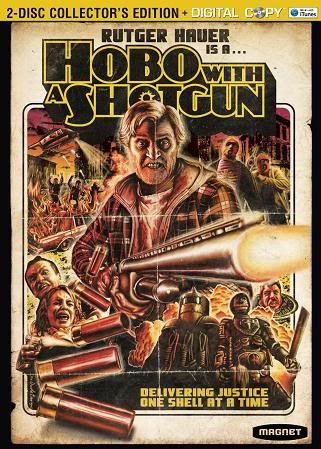 2 Disc Collector's Edition DVD & Digital Copy

Collector's Edition Blu-ray & Digital Copy

Both Collector's Editions will come jam packed with commentaries (one with Eisener and Rutger Hauer - Hauer's 1st ever DVD commentary!), an alternate ending, a lengthy making of documentary, deleted scenes & much more. So if you're coming into this home video release already a big fan of the film, craving all the Hobo you can handle, you're gonna wanna snag one of those Collector's Editions.

I implore you to grab yourself a copy, wrap your favorite beer bottle in a paper bag, invite your coolest friends over and enjoy the sights and sounds of a stinky homeless man taking bloody justice into his own hands!