One of the coolest little promotional gimmicks used to amp up fan excitement about horror flicks is the ole airline barf bag, a simple white paper bag usually with the films logo slapped on the front of it. Either handed out during select theatrical runs or included with home video releases, barf bags not only serve as nifty little collectible items (provided they're not utilized during the film...) but also a cheap and creative way to get fans asses to theatres. After all, what self respecting horror fan wouldn't immediately go see a flick that promised gore and brutality so vile that a barf bag need be provided in order to catch all the bodily fluids it would make you lose control of!?

Here are some of the barf bags that have been created for various horror flicks in the past!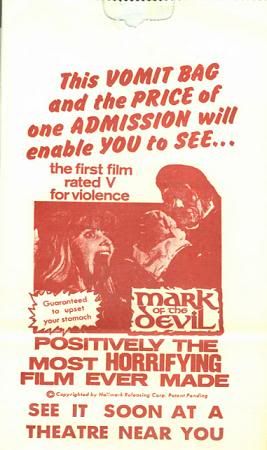 Mark of the Devil is perhaps the most notable barf bag film, given the fact that dozens of bags can be found on eBay at any given time. Rated 'V For Violence', the 1970 flick guaranteed it would upset your stomach.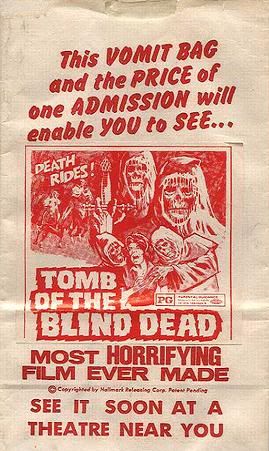 If this one looks familiar, it's because the company that released it was the same company behind Mark of the Devil, and they simply put a Tomb of the Blind Dead sticker over the art, making it the new 'most horrifying film ever made.' Note that the sticker even takes a shot at Mark of the Devil, claiming this one makes it look like a fairy tale. Gotta love a company competing with and upstaging their own releases!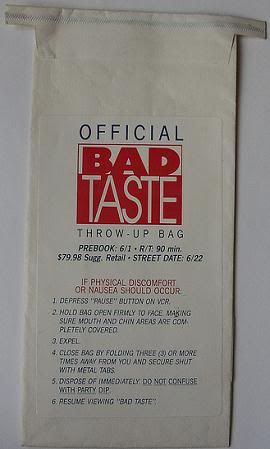 Magnum Entertainment included these bags with their original release of Peter Jackson's Bad Taste on VHS, which encouraged you to throw up into it during the film and then toss it aside and resume play on the tape, making sure not to confuse the bag with party dip. Eww.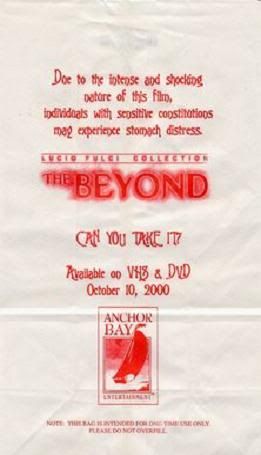 For their home video release of The Beyond back in 2000, Anchor Bay threw this nifty treat in as an added little extra. Can't think of any film that deserves the vomit bag treatment more than one directed by Lucio Fulci. Speaking of which, barf bags were also handed out during theatrical runs of Fulci's Zombie, and a proclamation at the end of the theatrical trailer even stated "In the interest of public health, the management of this theatre will upon the request of any patron buying a ticket, provide patron with a barf bag similar to those used for airline sickness." Unfortunately have never been able to track down an image of those vomit bags.

I guess the rest of these speak for themselves, so I suppose i'll shut up now!