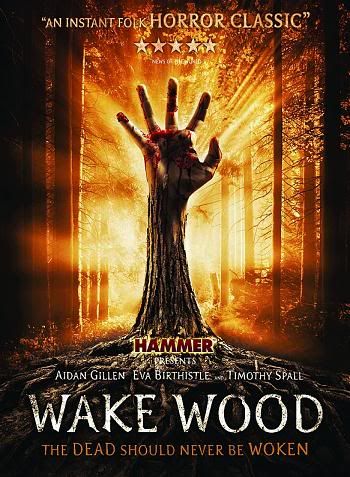 Earlier this week I watched and reviewed Wake Wood, which I absolutely loved. It's one of the best horror movies i've seen in recent years and it's one that has grown on me even moreso with each passing day since i've seen it. I'm not sure that my review properly conveyed the urgency in which I feel you (yes, YOU!) need to see the movie, and I wanted to do a little something to help you with that. I can recommend a movie all day every day for a week straight but sometimes it's hard to get someone to actually sit down and watch it and i'm here tonight to do something about that. I want YOU to see Wake Wood so badly that I am going to buy you a copy of the DVD, out of my own pocket, just so I can make damn sure that you take my advice and watch it as soon as possible. So if you haven't seen Wake Wood and you're dying to see it, here's all you've gotta do!

Leave me a comment below telling me why you want to see Wake Wood. Be sure to include your e-mail address and be sure to leave your comment by the end of this week, meaning by midnight on this Sunday the 17th. Once we all mourn the end of the week come Monday, I will pick one of you fine folks to receive a free DVD of the film. I'd prefer it if you only enter if you haven't yet seen the movie, but I obviously have no way to govern that.

That'll be all. Hope ya dig it as much as I do!