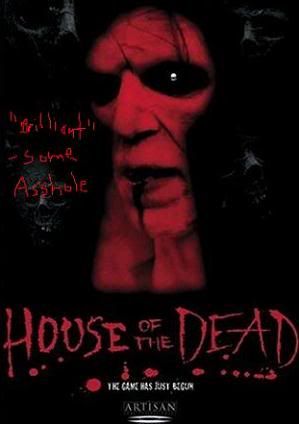 Have you ever read a glowingly positive review on the DVD cover of a horror movie and wondered how anyone in their right mind could truly feel that way about that particular movie? We all have different tastes, this much is true, but there are times when a horror movie is so bad that nobody but the director's mother could find anything to like about it and yet, even the worst of the worst movies seem to have those gushing quotes slapped all over the cover art. Three years ago, this is something that I always wondered about. Since starting my own blog and seeing just how the whole screener review system works, at least among dishonest individuals who have no respect for their readers, it's become quite clear to me why every horror movie ever made has at least one or two people who seem to love it. Now I don't like attacking other horror bloggers and I certaintly don't plan on naming any names here, but I just wanted to briefly touch upon this tonight and share with you folks some things i've learned through doing this for the past three years. So come take a walk with me through what I dramatically refer to as the seedy underbelly of this wonderful community. The only reason i'm ranting about this is because it's a community I love so much, one I hate to see bastardized.

How the whole screener thing works is like this. A blogger either requests a copy of an upcoming release they want to check out or is contacted by the company behind it asking if they want to review a copy. The blogger receives and watches the movie and then posts his review, which is either A) totally honest and true to his opinion of the film or B) dishonest and more enthusiastic about the film than he would've been if he didn't receive the movie for free, as a screener copy. Why would any blogger choose option B over option A and thus, blatantly slap their readers across the face with a big pink dildo? There are several reasons for that and though none of them are malicious or intended to hurt anyone, they all betray the trust of the readers, whether the readers know it or not, which is in my opinion the cardinal sin of blogging of any sort.

One possible reason why a blogger would be dishonest about their thoughts is simply because they want to remain in the good graces of the company or sometimes the director who sent them the film. They want to continue receiving screeners or want to build a friendship with that company/director that will result in them getting more perks down the road, so they choose praising movies they don't like over revealing their true thoughts, which could possibly result in relationships ended and screeners from that company no more sent to their homes, free of charge. I admit that getting free horror movies sent to my house is something that never ceases to make me geek out. It's the one form of payment most of us ever get from toiling away at this day after day and it's pretty damn awesome to not only get movies free, but to be able to watch them before everybody else. It makes ya feel good and it makes ya feel like you're a part of some kind of inner circle. Believe me, I completely understand not wanting to lose this privilege. But let me ask you this. Is it really worth lying to your readers and sacrificing your dignity all so that you can continue to get crappy movies you don't even like in the mail for free or maintain a friendly relationship with a company or director whose output you don't even dig? Think about that one.

The other main reason some bloggers fall into the trap of praising movies they don't really like is tied to the whole quote on the cover thing I talked about above; every horror blogger wants a quote of theirs printed onto the DVD art of a horror film. It's a sort of bucklet list goal for movie review bloggers, whether they admit it or not. It's the one way for a blogger to transcend their internet space and make it into print, thus boosting the ego and hopefully even driving traffic to their site. A quote of mine has never been used on the DVD of a movie but i'll be honest, it's something i've always in the back of my mind desired. But some horror bloggers want it a lot more than I do and they don't care if they have to lie to get it. So they watch an early screener of a movie that the official DVD of hasn't yet been created, they dislike it, but they decide to write up a positive review of it anyway, making sure to add in key phrases like "The Best Indie Horror Movie of the Year!", which are perfect fodder for DVD marketing. They e-mail it off to the company that's going to soon be putting the DVD together, (somehow) able to sleep at night under the notion that maybe, just maybe, their bullshit kiss ass review will end up being used to make the film look good. Oftentimes, it does. Naturally, those bloggers continue to do it. Why broke what aint fixed? Nobody can get inside my head and nobody will ever know that my reviews aren't honest. It's all about being on the cover, baby!

But again I ask; is there really any pride in having your untruthful words printed on the cover of a movie that you don't even like? As much as i'd love to see my words and the name "Freddy In Space" on the cover of a DVD, I would never want to endorse anything I didn't truly like, encouraging you guys and gals to go out and buy or rent a movie under false pretenses. I honestly wouldn't be able to sleep at night and I can't understand how anyone would be able to. Bribe me, pay me, do whatever you want to do to sway me; you're not getting me to type up untruthful words to my readers. Ever.

When it comes to movie blogging, you've gotta build up a certain level of trust with your readers and then and only then will they feel comfortable taking recommendations from you. I like to think that i've done this over the years and I can assure you that you will never read a word on this blog that doesn't reflect how I truly feel about something. I obviously could never guarantee that you'll always feel about movies how I felt about them, but I can promise you that you will always be reading my true feelings when you sit down to read one of my reviews. At the end of the day I don't care about getting my quotes on the cover of a movie or being in the good graces of anyone in the horror community (though both things are admittedly nice). It's all about being honest and telling it like I see it. That's all i'm interested in and if that gets me blacklisted from screener mailing lists or on the bad side of directors, I certaintly won't lose any sleep over it.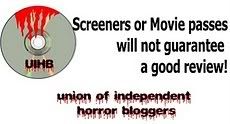 To my fellow horror bloggers ... JUST BE HONEST. Stop making readers question the validity of all of our thoughts and focus on being truthful to your individual readers, above anything and everything else. I've always said that even though I am huge fanboy of someone like an Adam Green, and though it would be kinda painful, i'd be the first person to tell you if I didn't like something he made. Afterall, if my faithful readers can't trust the words that I print, then what the hell is the whole point of this blogging thing?