I was stocking the shelves at my job the other day with various new squirt guns and other watersports toys for the kiddies when the image of the old Freddy and Jason spitballs popped into my head, which lead me to rack my brain for all of the summer water toys with horror movie themes that I could think of, in the hopes that I could come up with enough of them to warrant making a blog post about it (...if you knew how much time I spent trying to think of fun blog posts while i'm at work/home/everywhere else, you'd probably be sad for me). Well I came up with enough. So here's that.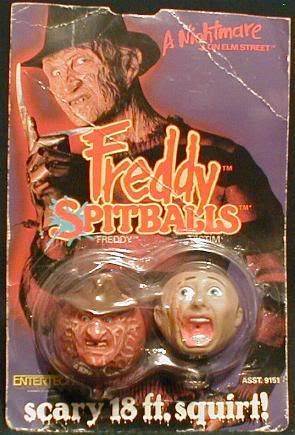 I don't think theres a single horror fan around my age that didn't at one point in their childhood squeeze Freddy and Jason's balls in an attempt to get them to squirt as far as they possibly could. Each featuring nameless victims alongside the two horror icons (cause, ya know, Ira Heiden and Larry Zerner would've probably been up in arms had a little squirting head that looked somewhat like them been out there in the world, soaking up profits that they'd never see), the spitballs were put out by LJN back in the late 80's, right around the time Dream Warriors and The New Blood were released. Rather than giving Freddy a big fat face, which was easier to disguise for Jason with his hockey mask, LJN decided to instead have Freddy's face look like it was growing out of the squirt ball, which is pretty clever even if it wasn't intended being that Freddy always had a tendency for morphing into things and taking on different shapes and properties. If Freddy ever decided to manifest himself as one of the veiny testicles of a dreaming victim, this is probably what it would've looked like. As for Jason, though the packaging features images from both The Final Chapter and The New Blood, the axe wound and beat up lower half of his mask as well as the greenish zombie looking skin suggest that LJN was going for the look of the latter. Ironic and kinda cruel on LJN's part to make a toy that forces you to dunk Jason into a large container of water, eh?




LJN also made these Universal Monsters themed spitballs, which I admit I never knew about until I just stumbled upon them through a Google image search to find the above photos. The coolest thing about these is the totally epic packaging art depicting a raging battle between Dracula and Frankenstein, each squirting violent streams of water at one another out of their own squishy heads. By the looks of things, it appears as if Lugosi's popped collar is giving him a distinct advantage. Guess that thing is good for something other than disguising a chiropractor's identity afterall. Anyone else have a strong urge to try and blow that glorious art up to poster size and hang it on their wall?




Right around the time the spitballs were put out, LJN took the idea of a squirting Freddy head to the next level with this deluxe edition model, which fit over its child owner's hand to become a puppet of sorts, which he could manipulate to bukkake his friends. Many toy and mask makers over the years have failed to accomplish the seemingly impossible task of getting Freddy's face to look just right, but I gotta say LJN nailed it with this one. That being said, it is slightly disturbing when you think about the fact that this toy is encouraging little kids to puppet the head of a pedophile and taunt their friends with it. Oh, the 80's.




Don't worry if these don't look familiar to you. Your memory isn't falling by the wayside in your old age, but rather these toy guns were actually never released by LJN (as far as i'm aware). It looks like the Freddy one made it to the prototype stage while Jason languished in concept art hell. This is the only image of the two that appears to exist, taken from an old 80's LJN vendor catalog. I guess squeezing a purple shirted Jason and having him shoot a stream of water out of his beloved axe is the kind of memory we can only think back fondly on in our dreams. Sigh.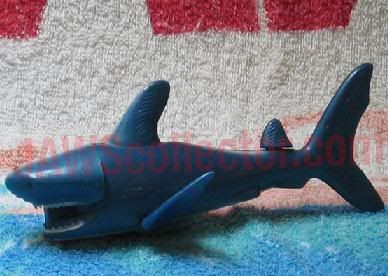 I'm not sure who came up with the idea to turn Freddy and Jason into water squirting devices (I kiss the feet of that man/woman, whoever he/she may be), but something about a Jaws squirt gun tie-in just seems a heck of a lot more natural to me. Only downside of this one is that anyone that saw you playing with this thing would just think you got it from the local aquarium, being that there's no sign on the thing that it's actually supposed to be in the likeness of the one and only Bruce. Only you will know the truth and you will be a better person for it. **Thanks to the awesome site JawsCollector.com for the image**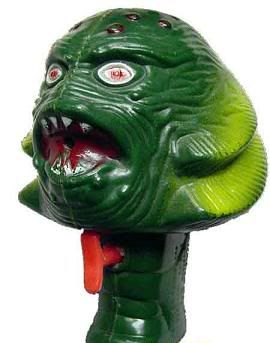 And finally, this series of monster squirt guns was put out by a company called AHI in the late 70's, which must make them the first ever horror themed squirting devices (my decision to feature them last is purely poor blogging on my part and i'm far too lazy to copy and paste this to the start of the post). From what I gather, AHI specialized in cheap rack toys like these, using their Universal Monsters license to create everything from bendies to windups. These squirters are pretty hard to come by these days, with the Creature From The Black Lagoon being the most valuable of the trio. To me though, the coolest one is King Kong, if only because he looks more like The Tarman than he does the giant ape who rips planes from the sky.