Which Texas Chainsaw Massacre do you prefer; the super serious and gritty first one or the more humorous and whimsical sequel? That's the only question you need to be asking yourself this coming idyllic summer weekend, as FRIGHT RAGS unleashes a newsletter subscriber only limited edition Texas Chainsaw Massacre 'Extreme Package', which contains a shirt and poster that reflect your taste in chainsaw massacre's as well as all kinds of other goodies. Here's all the dirt on the package(s)!

- These shirt packages will only available for sale starting at the stroke of midnight (EST) this Friday, July 8th, through this Sunday, July 10th. They will run you $47.95 each.

- They will not be publicly available on the site, as they're exclusive to newsletter subscribers only. So unless you're signed up for the Fright Rags newsletter already or do so right this instant, you will not receive the link when the shirts go on sale and therefore, you will miss out.

- The shirts will be available in all sizes (men's S-5XL, women's S-2XL) throughout the whole sale, as all shirts will be custom printed as ordered. This means that unlike with past Fright Rags special edition packages, your size will be waiting for you at whatever point during the weekend you decide to place your order.

Get it? Got it? Good. Now that the boring details are out of the way, we can get to the juicy bits; what exactly lies inside these 'Extreme Editions'. Oh wait, first let me remind you of something one last time ...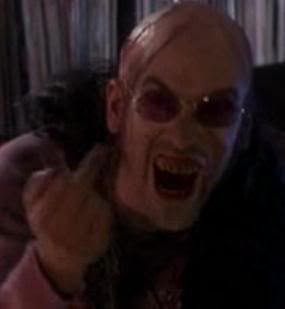 SIGN UP FOR THE FRIGHT RAGS NEWSLETTER, YOU DOG DICK!

Ok so first and foremost, you get to choose which shirt you want in your Extreme Package, depending on whether you like your murders deadly serious or over the top comical. There are two designs available for your choosing, one based on the original Chainsaw and the other on its sequel and you get to choose your favorite design, which you will get printed on a shirt as well as an 11x17 poster. If you dig and desperately want both designs (i'm with ya!), you are free to order one package of each. Here are the two designs available ...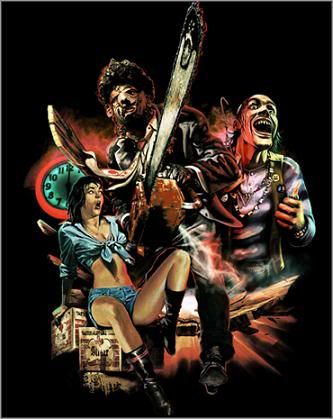 I must stress that once the shirts that have been ordered are printed up after this weekend, the screens will be destroyed and these designs will NEVER be available again. So if you want 'em, you better get 'em now!

Now of course, this being Fright Rags and all, you don't just get a t-shirt and a poster. As Extreme as that'd be based on the kickass designs, it just aint Extreme enough for those folks. So here's what else will come in your package, housed inside a very special keepsake box!

- A bumper sticker, exclusive to this package, that's tailored to the design you choose. If you order the TCM 1 shirt you get a "Don't Mess With Texas" bumper sticker and if you get the TCM 2 shirt, you get a KOKLA Radio Station bumper sticker.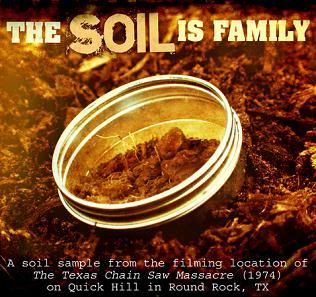 - A soil sample taken from the site where the original Texas Chainsaw Massacre was filmed. The soil will come in a tin and will be included with every order, no matter which shirt is ordered. My friend Krystal Beck is the one who risked life and limb to procure all the dirt, so show your appreciation by checking out her recap of her adventure over on The Blood Sprayer!

The shirt, the poster, the bumper sticker, the soil and the collector's keepsake box ... it's all yours for $47.95 and will be available to newsletter subscribers only, this weekend only. Do I need to remind you one last time? I do, eh?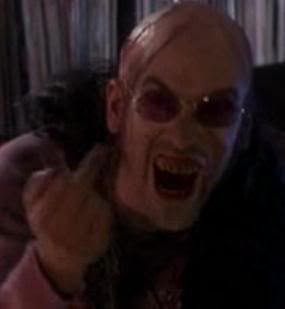 SIGN UP FOR THE FRIGHT RAGS NEWSLETTER, YOU BITCH HOG!!