A couple weeks back, my girlfriend discovered that her favorite makeup company was selling a limited edition makeup palette inspired by one of our favorite TV shows, True Blood. Naturally, she had to have it. So I quickly ordered it online for her and patiently waited a week for it to arrive on my doorstep. I came home from work one day this past week and there it was, along with a second box from Sephora. I opened both up to find that I had received two of the True Blood products, both addressed to me, even though I only ordered one. I figured I had been accidently sent an additional one and would have to send it back (since i'm honest like that). I wrapped up the one and excitedly handed it to Jen, who opened it up and was clearly confused. She informed me that she had bought the product for herself and wondered why I had wrapped something she bought for herself and pretended it came from me. Suddenly it all made sense. We both ordered the palette on the same day and both arrived on the same day, with Sephora probably noting the same address and deciding to send them both with a tag marked with my name. Bit of a buzzkill but no big deal. I told Jen she could keep the one I got and send the one she got back, so she could get her money back and still have the goods. Instead, she propositioned me with an idea; "How about I review it and give it away to one of your readers on your blog?" Music to my ears. Take it away, Jen!




Ok ladies, this one's for you. If you're like me and you think Sephora is the closest thing to heaven on earth (besides the fantasy of possibly getting it in with Eric Northman, Vampire Bill or Alcide) then you love cosmetics and True Blood and you have come to the right place! Now, what could be better than makeup and True Blood wrapped together tight in a corset embellished case? A couple of things...this is natural, healthy, nourishing makeup by Tarte and you can win it for free!

For those of you who are not familiar with Tarte cosmetics, they are a PETA approved animal cruelty free and vegan company.



Would you make this cute little guy wear makeup?

Tarte is an all natural and health conscious company that manufactures cosmetics that are actually good for your skin. Here's a little info about this particular product from Tarte: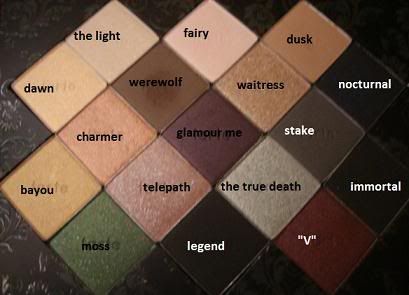 Get glamoured with this limited-edition palette packed with 17 killer new eye shadows and more. Each richly pigmented shadow is softly milled and infused with Amazonian clay for pure color payoff, silky application and long wear. From ethereal goddess to vampy vixen, you can create countless looks using these shimmering, matte, and smoky shades.

Open after dark: Buried in this palette's pull-out drawer is a full-size EmphasEYES Aqua-Gel Eyeliner in black, a deluxe Lights, Camera, Lashes! clinically-proven natural mascara and a deluxe Lifted Natural Eye Primer with Firmitol to help you complete your look. Turn into a real truebie using the four 'get the looks' included with each palette, created with the help of True Blood's award-winning lead makeup artist Brigette Myre-Ellis.

This set contains:
- 17 x 0.07 oz eye shadows
- 0.003 oz True Blood EmphasEYES Aqua-Gel Eyeliner in Black
- 0.1 oz True Blood Lights, Camera, Lashes! Mascara in Black
- 0.08 oz True Blood Lifted Natural Eye Primer

What it is formulated WITHOUT:
- Parabens
- Synthetic Fragrances
- Phthalates

Research results:
Lights, Camera, Lashes! Clinically-Proven Natural Mascara increases the appearance of lash volume by 424% and lash curl by 90.2%. Lifted Natural Eye Primer with Firmitol decreases the appearance of fine lines and wrinkles by 51%.
_________________________________________

Also, please make note that the case is 100% recyclable, and you can buy replacements for the eyeshadows so this case can last until you meet the true death.

I have my own True Blood palette and it is one of my most loved cosmetic products and I'll tell you why. The eyeshadows are truly amazing, they are so pigmented and a little bit goes a long way. The color selection is remarkable, it has all the colors I usually wear and some I cannot wait to try. It even comes with a guide of 4 different looks you can achieve with the palette. It is a really great introduction to the brand because it is a great sampler of the products.

This contest is not exclusively for the ladies, men you can do it up Lafayette style or give it to your special lady! To enter, leave a comment telling me which True Blood character you think is most romantic and why. With your entry include your email address. A winner will be selected and notified via email. Just be sure to get your entries in before True Blood airs next Sunday night!

If you don't win but still want to buy the palette, it is available for a limited time at Sephora.com and TarteCosmetics.com for $52.