As a big fan of Garbage Pail Kids/Wacky Packages cards, I guess it's inevitable that i've over the years sought out other work from the artists who have brought those trading cards to life. One of those artists is Brent Engstrom, who has drawn up cards for both and who also illustrates for Nickelodeon and Mad Kids Magazine. I'm a follower of his blog, fittingly titled Brent Engstrom's Blog, and I was playing catch up through his history of past blog posts when I stumbled upon something pretty awesome that I think you fine folks will dig. Around this time last year, Brent posted a series of sketch cards he made that combined popular horror movies with that Garbage Pail Kid style art and the results, as you might expect, are pretty awesome. So if you ever wondered what it would look like if your favorite horror villain invaded the world of the Garbage Pail Kids, Brent's got ya covered!!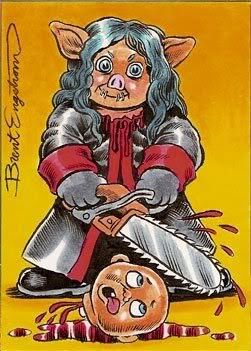 Though these were never officially released, there was one mass produced Garbage Pail Kid card that directly referenced a popular slasher villain. Can you name that villain?

Oh nevermind, i'll just show ya. Going under the names Claude Flesh and Slasher Asher (the GBK's always had alternate names), I think it's pretty clear who this little fiend was paying homage to ...