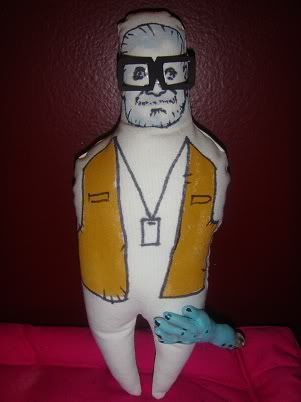 Earlier this year at March's Monster Mania Convention, there was a vendor by the name of Bob Dix whose work I became quite the fan of over the course of the weekend. I bought a couple of his art pieces along with a George Romero doll that he made by hand, which I fell in love with. Shortly thereafter I began chatting with Bob through e-mail and worked out a deal with him to exclusively sell his handmade horror director dolls (he's also got one of Hitchcock) through a little shop I had started over on the Freddy In Space Facebook page. Even though he has to make each one of a kind doll by hand, Bob was awesome enough to quickly whip up 5 Romero dolls and 5 Hitchcock dolls for me, which I excitedly posted to the shop. Here we are several months later and i've yet to sell one. That being said, I am not in possession of too many of the dolls I bought from Bob, being that i've delighted in sending them to friends, all of whom seem to dig them. When I contacted Bob about selling them through my shop my intention was never to make any money off the dolls so much as it was to get them out there in the world, being that I personally think they're pretty sweet, so i'm happy that i've been able to do just that. Nothing I do in the horror community is for the money, it's all out of pure love.

So I figured since I have a couple dolls left i'd offer one of the Romero ones up for grabs to you folks, free of charge, in an effort to spread the love. Here's all you've gotta do to enter to win!

Leave me a comment with your e-mail address and the answer to the following question :

- What would you do with your cute and cuddly version of George Romero, if you were to win him?

The giveaway will run through this week (ends Sunday night at midnight) and is open to everyone, everywhere, zombie or human. Best of luck to all!