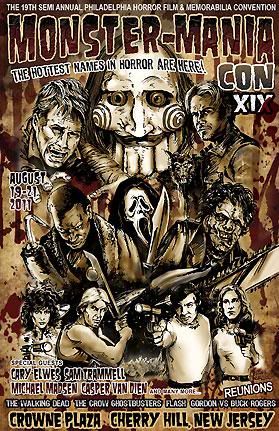 Just about 12 hours away from making the trek out to Cherry Hill, New Jersey for the 19th Monster Mania Convention and it's beginning to feel like Christmas Eve round these parts. Pretty tired and still got some packing to do so I should probably be doing that but I wanted to quick pop on here as I always do on the eve of a convention to let ya know that i'll be away for the weekend, returning on Monday with full coverage. Be sure you're following the blog on Facebook because i'll likely be status updating cool happenings and pictures and such over there throughout the weekend. So keep an eye out for that and i'll see ya Monday!

Oh there is one more thing I wanted to mention. Showed Jen Behind The Mask last night for the first time, being that we're gonna be meeting Nathan Baesel this weekend. She took quite a liking to the movie and i'm pretty sure she's now a bonafide Vernon-ite. I couldn't be prouder. Speaking of being proud, she spent the whole day today paper mache'ing her very own Leslie Vernon mask to get signed by Baesel. Quite unlike myself, Jen's got an incredible ability to do something for the very first time and do it pretty damn well. I don't know how she does it but she never ceases to impress. So I leave you with her creation, which should make for a great display piece when it returns from Joisey adorned with a signature from Vernon himself!




Ok now i'm off to finish packing and then dreaming of philly cheesesteaks, broccoli bites, lots of beer, good friends and being crammed into a hotel with the likes of Cary Elwes, Sam Trammell, Tony Todd and Lance Henriksen. Oh ya, and Danielle Harris. Be jealous. Be very jealous!