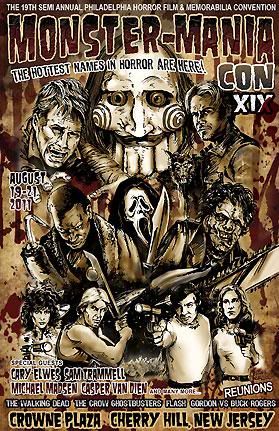 Monster Mania has once again come and gone and has managed to once again leave my wallet empty, my GI tract in shambles, and my whole body and mind unable to adjust itself back to reality, a reality that most certaintly does not have Danielle Harris in it. It's never easy to return and get back to the daily grind, but I find myself having an extra difficult time this time around, which I guess is a sign of how much fun I had this past weekend. To go from being packed into a hotel full of people with the same interests who have gathered to mingle with their favorite celebs and honor those interests to dealing with the monotony of working a job that couldn't inspire you or put a smile on your face no matter how much money you were getting paid is a transistion i've always found to be quite depressing, a slap in the face reminder that i'm not doing with my life what I want to be doing with my life. Don't mean to start this off on a downer of a note, but I just wanted to quick sum up how i'm feeling at the moment. It'll pass!

I always like recapping these events because it allows me to relive them for a wee bit and get swept up in that convention spirit all over again so how's about we get to the fun stuff, eh?! First, a rundown of the people who went on this crazy adventure with me!




Monster Mania has for the past several years been a family affair for me, with my mom, dad and girlfriend always coming along for the ride. This time, as they've done a couple times now in the past, my brother and his girlfriend Jess also met us there and we had a special guest star drive down with us in the form of Jesse Bartel, one of my best friends who I met through my day job and who writes for the horror websites The Blood Sprayer and The Liberal Dead. This was Jesse's first ever convention and I was so excited that he was joining us, being that he's such a fun guy to be around. I knew he would make the event that much more enjoyable and boy was I right. He fit right in with our whacky family and i'm pretty sure he will never be able to pass up a Monster Mania again in the future. If you have any doubts about that, check out his recap of the weekend over on The Blood Sprayer. Jesse, it was my pleasure to introduce you to your very first horror con!

After some pretty heavy traffic and a car ride filled with trivia games and nap breaks, we hit up the local Cherry Hill Wine Legend (always our first stop), stocked up on booze (pumpkin beer is in season!) and then headed over to the hotel, just a stone's throw away. The minute my dad pulled the car up to the hotel, we were thrust into that magical world of the horror convention, a second home to myself, my parents and Jen and one that was about to become a second home for Jesse as well. Lance Henriksen was standing outside the building smoking and chatting with fans and I was so glad Jesse got to witness that right off the bat both because he's a big time Aliens fan and because it was the perfect introduction to how surreal these things tend to be. Where else can you ride an elevator with the dude from Troma's Mother's Day and drunkenly wax poetic to him about the deliciousness of the hotel bar's deep fried broccoli bites? I rest my case.

When we got up to the room to get settled in and wait until the convention began, it quickly became clear that something was wrong. The lights in our room started flickering on and off and then all of the power in the room went out, along with all of the power in the entire hotel, lights, air conditioning and elevators included. I couldn't help but wonder if Danielle Harris was stuck in an elevator somewhere, trapped with rabid nerds who probably looked and smelled a lot like me. Scary thought, to be sure. Getting food or pretty much doing anything was completely out of the question, but we decided to take a quick trip down to the lobby anyway to see what the hell was going on. Me having a child's bladder and being a few beers deep at this point, I had to make a detour to the bathroom, where the only thing standing between my urine and the walls and floor was a flashlight that a gentleman was illuminating the place with. It's a good thing that I was a little buzzed because my bladder is both childish and at times quite shy. We took a trip into the dealer room but quickly emerged from there when we realized we pretty much couldn't see anything. It was like walking into The Further and I wasn't about to chance running into Darth Maul. So we hung out in the lobby for a bit with our long time convention buddies Dallas & Curtis and were soon approached by a full sized adult version of Sam from Trick 'r Treat, who Jen snapped a picture with.




After taking the picture, Sam opened up his treat sack and it looked like he was begging for money in return for the photo op, so Jen excitedly threw $1 into the bag. Sam then reached in and pulled out a handful of candy, revealing his true intentions. It reminded me of that scene in Falling Down where Michael Douglas gets shot because Bobby Duvall thinks he's pulling a gun on him, when he's really just reaching for a toy water pistol.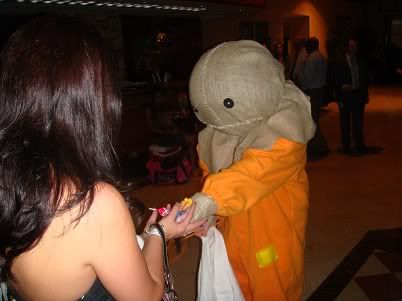 We had quite a copious amount of beer up in the room so we holed up in there until the power came back on, which would hopefully be soon. At this point my brother and his girlfriend arrived and we spent a good hour or so hanging out and drinking before the power did eventually end up coming back on. When the power was out we were pretty upset but as soon as it came back on we were kinda bummed that we now had to get off our asses and actually leave our room, so in the end the blackout provided us a nice little period of time to just relax and bond. Always a silver lining!

We returned to the dealer room, where everything could now be seen, and I made my first purchase of many to come over the course of the weekend; the retro 80's horror collection from Camp Motion Pictures that i've been dying to get my hands on for a while.




This baby comes with the previously unreleased shot on video horror flick The Basement on both DVD and VHS(!), along with four other shot on video horror films. It was a bargain for $25 and I will be doing a full post about all the contents soon, so for now you're gonna have to wait until I open this beauty up and show it off!

I can't exactly remember at which points in the night I picked up these other things, so let's just take a look at what else I purchased on Friday ...




Very excited to snag a copy of Fright Night 2 ($5!), even if it's a bootleg. I've never seen it before and seeing as the officially released DVD is long out of print and fetches pretty steep prices, bootlegs are pretty much the only way to go. The little Chucky string doll I got for Jen (I get her a different one at every Monster Mania) and she returned the favor by getting me the Human Centipede and IT magnets. The Boo-Berry, Freakies and Ouija Board things are also magnets, which will look great next to the Franken-Berry and May ones I got from the same vendor last Monster Mania.

Friday is never too big of a day for me when it comes to buying merchandise, as I don't often spend too much until I get fairly drunk and eager to empty out my wallet come Saturday, so i'll have more to show off during tommorow's recap.

I tend to really not meet anyone on Friday's either, mostly because I always take it easy with the drinking that day and thus am too shy to actually approach anyone, but Jesse and I decided to go ahead and meet Tony Todd on Friday night. Jesse wanted to say hello and get a DVD of Scarecrow Slayer signed for our friend Kenny, a movie that the three of us love to hate. It was pretty funny because on the way to Monster Mania I asked Jesse what he'd say if Tony asked him if he actually liked the movie once he handed it over to be signed and wouldn't ya know it, that's precisely what he asked. We kinda laughed and once we realized that Tony was aware that the movie sucks, we chatted with him for a bit about how bad it is but how much fun we have watching it. He talked about how they didn't have enough money to pay him to be on set for more than a couple days, which is why he is killed off so early on in the film. I joked to him that I loved the alien mug he drank from in the movie, which he got a kick out of. Always cool when an actor can joke around about bad movies they regret having done.



There was a guy there specifically to take pictures and yet he couldn't seem to figure out how to fit us all into the shot ... thanks dude!

I brought my Candyman print from Alex Pardee's 'My Favorite Monsters' series to get signed, which Tony absolutely loved. He had never seen it before and it was cool to be able to introduce him to one of my favorite artists, who actually whipped up a Hatchet 2 poster a while back in conjunction with Adam Green. He took down the URL to Pardee's site and said he'd check it out when he got the chance.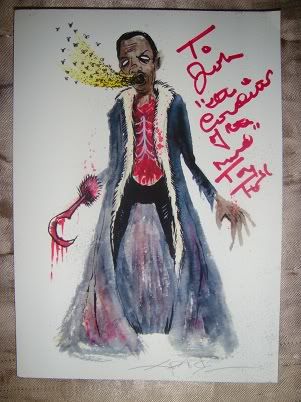 Also told him about the Candyman board game that I have, which he seemed pretty shocked that I was in possession of, furthering my belief that those things must be pretty damn rare. We chatted a bit more and I told him i'd see him in the bar later, which he remarked that I most certaintly would (and sure enough I did). After walking away from his table I realized I never paid him the $25 he was charging for autographs (everyone's rates seem to have gone up), so I approached his handler and explained that I was never charged (because i'm honest like that). Sometimes ya just get caught up chatting and you both forget about the whole awkward exchange of money thing. The handler ended up calling Tony over and allowing me to personally hand it to him, which was pretty cool. Had to make things right!

Next up Jesse decided to meet Joe Turkel, who was sitting right next to Tony. Joe was the bartender from The Shining and was also in Blade Runner, which is one of Jesse's favorite movies. I'm glad Jesse met him because that gave me a chance to chat with him for a bit too and he was such a cool guy. He had a pretty lengthy chat with Jesse which ended with him imparting some wisdom and writing down the name of a book that Kubrick used to carry around with him, which he told Jesse to pick up. He seemed to know that Jesse had a passion for writing and it was so awesome of him to take the time to shoot the shit. Really really cool guy.




At this point the dealers and autograph rooms were getting ready to shut down for the night and the after dark festivities were about to begin, so we holed up in the room again for a bit, drank a few more beers, and headed down to the bar, where would remain until around 1 in the morning. Our time there was mostly spent hanging out with Fright Rags owner Ben Scrivens as well as artist Terry Callen, his lovely wife Jill and a handful of celebrities who made their way in and out, including Alex Vincent (the little boy from Child's Play) and a consistently unhappy looking Glenn Hetrick (makeup artist/one of the judges on Syfy's Face Off). I'm sure he's a teddy bear but he was highly intimidating, looking like he wanted to be fighting a war with his bare hands rather than meeting fans of his.

If my brother were to write up a recap of his experience it'd probably be more exciting than mine during this portion of the night, because he ended up going outside for a smoke with Jess and Jesse and running into both Eddie Furlong and Monica Keena, who seemed to be dating Furlong and who wasn't advertised as being at the show. Though we had our doubts in regards to whether it was in fact her or not, being that she looked to have had lots of plastic surgery done on her face, my brother insisted it was and it ended up that he was quite right. Furlong bummed a smoke from them and took some pictures in exchange for it. Dude seems like he's back off the wagon but nevertheless, this encounter had me wishing I was a smoker so I could've experienced it firsthand!

What I did get to experience though was Bob Elmore being denied access to the lobby with a drink in his hand, another sign that security is getting a little too beefed up for my liking at this particular convention. Bob played Leatherface in Texas Chainsaw 2, at least for some scenes, and it was kinda sad to see him get turned away like that. He tried to show the security guard his badge which indicated that he was a celebrity there signing autographs, but they weren't having any of it. The past few Monster Mania's the security team has had an increased presence and though they didn't seem to be injecting themselves into too much of the fun this time around, I can't help but hope this thing doesn't lose that laid back quality that makes it my favorite convention to go to. We shall see.

Other than that there's not much to talk about in regards to the night other than me once again going on about how cool of a person Ben Scrivens is. It was cool to be able to really hang out with him for the whole night, being that we oftentimes never get to chat for more than a few minutes at these things. Again, my hardcore undying support of that company has as much to do with how nice the whole crew is as it does how much I love the shirts. Gotta say that Ben's one of my favorite people in the whole horror scene.




After quickly popping in to some kind of dance party that was going on in one of the main rooms, where I got to chat a bit with my boy Adam King (the best Ash impersonator in the game), it was back up to the room for some final laughs and much needed sleep, with hopes that we'd all wake up in the morning not too hungover and ready to do it all again.

On that note, i'll see ya tommorow for part two of the recap, which will cover the highlights of both Saturday & Sunday!