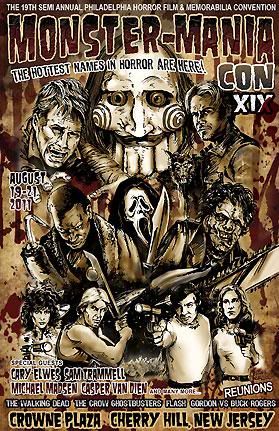 CLICK HERE FOR PART 1 OF THE RECAP!

It's always a triumph to wake up on a Monster Mania Saturday without a hangover, which I somehow managed to do this past weekend. While we waited for the ladies to get ready, my brother's girlfriend slapping on her soon to be quite popular Chucky costume, we loaded up on Keurig coffee and cheap breakfast sandwiches from the lobby and then headed down into the depths for another fun filled day of Monster Mania madness, joined all too briefly by fellow blogger James Harris, who we were meeting for the very first time. James runs the blog Dr. Terror's Blog of Horrors. We chatted with him a bit up in our room (really nice guy ... go read his blog) and then took the elevators down together for the first stop on our journey; meeting Leslie Vernon.




This was Nathan Baesel's first ever horror convention and he was there to meet the fans and spread the good word about Before The Mask : The Return of Leslie Vernon, a film which needs the help of those fans. Myself, Jen and Jesse were very excited to meet Nathan and he ended up being one of the main highlights of our weekend. As I mentioned in the post I made on the eve of the convention, Jen loved the movie so much after watching it last week that she paper mache'd her own Leslie Vernon mask to get signed by Nathan, which he seemed to be blown away by. He actually even took a picture of it with his cell phone and sent it to Scott Glosserman, the director of Behind The Mask. Nathan was so humble and you could tell this was his first convention and that he was genuinely surprised by how many people love him and the film.




After signing Jen's mask, an 8x10 for me and taking a picture with us, Nathan told us that the mask was too cool to accept any money from us but given that all of the money he made was going directly to the funding of Before The Mask, I knew I couldn't allow that. I want to support the cause as much as I can so I ended up giving even more money than I had to for the autographs, which was the least I could do to help out. Nathan was one of the kindest people i've ever met at these things and I can only hope that he comes back in the near future.

Headed into the dealers room afterwards to spend some more cash that was burning a hole in my wallet. Again, I don't remember what I got when, so here's an overall look at the goods procured throughout Saturday.




These two prints were given to me by my good friend Terry Callen, who is the artist who created them. More on Terry in a bit, who I ended up spending a good hunk of time with at the convention. I love that man.




I'm not a supporter of bootlegs but i've wanted to see this one for so long being that I loved the first and it's not out here in the states yet. So lay off me, I paid for it at least!




It wouldn't be Monster Mania without picking up shirts from Fright Rags and House of Mysterious Secrets. The Sleepaway Camp one comes from the latter while the Jack Chop one comes from the former, completing my Adam Green t-shirt collection. Fright Rags is just selling off the stock of the original Green shirts until they come out with their own designs, which should be hitting the site pretty soon. I just get such a kick out of the fact that i'm wearing a t-shirt right now based off of a little short video Green made for Halloween. Gotta love it!

I think that was about it for my Saturday purchases, at least on the merchandise front. So where did most of my money go on that day? To meeting the celebs, who as I mentioned in the Friday recap have raised their prices a bit in the last couple years. Here's who else I met on Saturday ...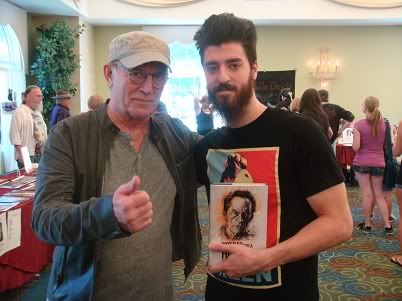 The sun took it upon itself to shave off a good portion of my beard

I met Lance Henriksen once before several years back and I knew I had to meet him again both because he's one of the coolest guys alive and because he was signing copies of his book, which I had yet to pick up. For $35 I got the book signed and got to talk to Lance for a bit.




When I first approached him wearing my Adam Green shirt, he asked me if it was me on the shirt. I guess he thought the neck damage looked like a beard, which was pretty funny. Then I talked to him a bit about Scream of the Banshee, one of his recent films which I enjoyed despite the fact that it isn't so great. He laughed and talked about how he sometimes wonders why he ends up doing certain movies, to which I remarked that he made the movie a lot better, as he does with most of the stuff he's in (truth). I also asked him why he's done so many Sasquatch horror flicks, wondering if things just worked out that way or if he's some kind of Bigfoot freak (like myself). He again laughed and said he was done with those. Always cool to meet Lance and his consistent awesomeness has pretty much ensured that i'll pay to chat with him every time I see him at a convention. Cannot wait to dig into this book, which i'll post my thoughts on once I get around to it.



Two people that could only be photographed together if there were an exchange of money involved

Been in the same room as Danielle Harris before (at the Hatchet 2 screening in NYC), but I never actually got the chance to meet her face to face. I underestimated the love her fans have for her and was quite surprised that her line was pretty long throughout the whole day. I knew I had to meet her so Jesse and I ended up waiting on the line towards the end of the day. If i'm being honest, the thought of meeting her was a bit more exciting than actually meeting her. It's not that she was mean or anything, but you could just tell she was a bit tired of meeting geeks like me by the time I got around to her. The encounter was fairly devoid of any conversation but getting the chance to hold her and take a picture with her was enough to make the wait and the money spent worth it. That is one precious human being, let me tell you. The lack of conversation was likely more my fault than anything else, given how nervous I was to be near her.




Oh and here's the 8x10 I got from her. How could I resist that shot?




Being a big time True Blood fan I was so thrilled to get the chance to meet Sam Trammell, who plays Sam Merlotte on the show. I was expecting him to have a huge line at all times but was pleased to find that I only had to wait about 20 minutes to meet him. I spent most of my time on the line chatting with fellow fans about how good looking a man Sam is, both to make the girls laugh and to weird out the guys. Not that it aint the truth. I told one group of girls that I was going to shift into a gay guy the minute I came face to face with Sam, a True Blood inspired line that my drunken self was quite proud of at the time. I was originally waiting on the line with Jesse, who joined me for moral support, and I was going to surprise Jen by getting an autographed photo signed to both of us, because I didn't think she was going to make it in time to meet him (more on that in a second). But she showed up at just the right time, right when I got to the front of the line, which worked out quite well. Glad we got to experience that together.




Sam was nice as can be and he got a kick out of the fact that I watch True Blood every weekend with my whole family. Totally surreal to chat with Sam Merlotte and i'm so happy that he was such a nice guy.

Prior to meeting Danielle and Sam, Jesse and I attended the Nathan Baesel Q&A, which was moderated by none other than Kristy Jett. While Kristy was moderating that, Jen worked the Fright Rags table in her place, which is why I didn't think she was going to be able to meet Sam when I did. From what i've heard she did quite well, selling shirts like a pro alongside Ben Scrivens. Very proud of her.

The Q&A was very informative and i'm glad I checked it out (you rocked it K. Jett). I often miss those things, being that i'm usually off eating garbage food, drinking beer and buying shit, but I knew I had to make it for this one. Hope it brought the plight of Before The Mask to the attention of some people that weren't aware of what's going on with it. Jesse filmed the entire Q&A and uploaded it to The Blood Sprayer, so be sure to head over there and watch it if you're a Vernon-ite like me!

It was somewhere around this time that we met up with Chris U. at the bar, where we hung out and eventually went up to our room to film a video of him doing a reading of the book 'Go The Fuck To Sleep', as Freddy Krueger. I posted that video last night so if you haven't yet seen it, you must go watch it. It's brilliant and I had a such a blast watching Chris do his thing live.

The night ended much the same way Friday night did, by hanging out in the bar. Once again joined by Ben Scrivens, Terry & Jill Callen and this time by Kristy Jett, Thomas Bryce, Mike Smash, Sean Jordan (VHSPS) and London 1888's Christopher Ott (who I wasn't expecting to see there), the festivities went a little bit later than the previous nights, as we outlasted the closing of the bar and ended up hanging out in the lobby until the wee hours of the morning. That's usually how Saturday nights end at these things for me and it's always a lot of fun to just hang out, drink and talk. After most of that crew went off to sleep, we went back up to the room with the Callen's and hung out for a bit more before turning in for the night.

Once again, I somehow woke up on Sunday morning without a hangover, though I was feeling a bit worse than I did the previous morning. We tend to leave pretty early on Sunday so I don't have much to talk about here but I took one final trip through the dealer room to spend the rest of the money I brought and say some goodbyes. The final two things I bought were the above Jack Chop shirt which i'm just realizing I didn't buy on Saturday like I said earlier and The Beyond Cult Collectibles bobblehead, which i've been fiending for for months now.




This thing is so awesome. The normal looking face is magnetized and can be left on or removed to show the little zombie girl's exploded head, as seen in that iconic gore scene in the film. Love this. A lot. You should buy one.

The convention ended on as perfect a note as it began, with us getting into an elevator down to the lobby packed with fellow horror fans and none other than Danielle Harris. Bittersweet moment, that's for sure. Mustered up the courage to say bye to her, which she reciprocated. I'm such a dork.

On the way home we hit up the greatest place on earth, Cracker Barrel, which is exactly what I needed to quell my quickly developing hangover. There's nothing in the world that breakfast at that place can't cure. A few hours more of godawful traffic and there we were, back home to our normal boring lives. Words cannot express how much I miss my Monster Mania family, so in lieu of words, here are some final pictures from the weekend that I couldn't find places for within all that text!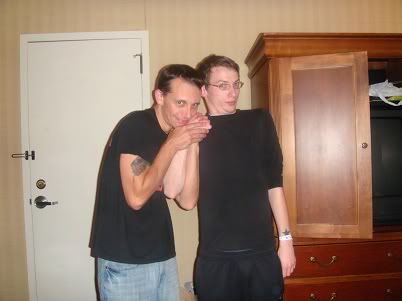 Terry & Jesse ... knew these two would get along
Love me some Kristy Jett ... even if she insists of insulting and sniffing my beard

Brian Dunn is one talented mofo. I need that Pumpkinhead bust. Now.


My brother with the Brian Dunn piece I bought him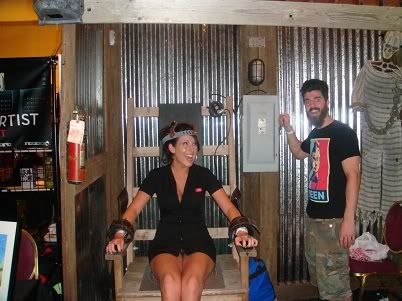 Always good to wear underwear when you're about to get the electric chair...
Alex Vincent took quite the liking to my brother's girlfriend. I suspect he's always deep down wanted to bed Chucky...
Jesse & I


Thanks to everyone who made the weekend so memorable and especially to my mom and dad, who always go out of their way to make these things as fun for their children (both the ones they birthed and the ones they didn't) as possible. Can't wait to do it all over again soon. Maybe in September?