Way back in 2009, I saw All The Boys Love Mandy Lane for the first time. I absolutely loved it. Just recently I picked up the UK Blu-ray and re-watched the film tonight and I gotta say, I love it even more. In my opinion, it's one of the best horror films in the past several years, probably even in the past decade, and perhaps my favorite slasher flick (though it's so much more than that...) to be released in an even longer amount of time. It's one of those rare horror movies that I literally have nothing bad to say about, though I honestly cannot talk enough about how much I dig it. From all the reviews i've read over the course of the past several years, most horror fans who have gotten the chance to see it seem to be in complete agreement with me. So what the hell is the deal? Why have more people not seen it? Why has it never been released on DVD here in the states? I never knew the full story and I wanted to look more into it now that this awesome movie is once again fresh on my mind. The story i've gathered from several different sources is one that has become all too synonymous with quality horror films of late ...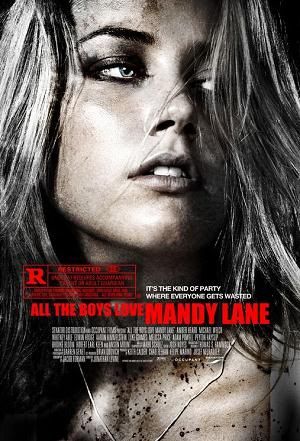 Made in 2006 by Jonathan Levine (director of the equally kickass but totally different flick The Wackness), All The Boys Love Mandy Lane premiered at film festivals starting that year and into the next. In February of 2008, the film received a theatrical release in the UK followed by a DVD & Blu-ray release that July (courtesy of Optimum Releasing), but never made its way stateside.

Picked up for US distribution by The Weinstein Company, Mandy Lane was scheduled to be released here in the states in 2007, under the Dimension Films banner. The film was primed for release in July of that year but was suddenly dropped by the company before the release date arrived, despite the fact that materials had already been sent out to promote the movie. So what happened? Apparently the Weinstein's got cold feet after the failure of Grindhouse and some other horror releases they pumped out around that time, so they decided to sell off the rights to the film.

A company called Senator Entertainment bought the North American distribution rights, The Weinstein's turned a profit on their little purchase (due to the fact that they made their money back from the Senator deal but also sold foreign rights to other companies), and the film was once again set for theatrical release, now in 2008. After the failure, both critically and financially, of Senator's release of The Informers, they too scrapped plans to birth Mandy Lane unto the world and soon thereafter, the company went out of business. The film was once again relegated to horror movie purgatory.

In 2010, a small glimmer of hope came out of Comic Con, when Amber Heard (the star of the film) revealed that a US distribution deal was close to being inked ("apparently it's closer to getting distribution..."), which was confirmed by one of the producers of the film. Everyone once again got excited and the release once again never happened. It has now been a year since this announcement and there has still been no official word about any actual release.

So here we are, five years after the film was made and ready for release, and we still are no closer to getting any kind of US release of the film. I could go on and on about how pissed off it makes me that so many utterly crappy horror movies get released every week while movies like this one (Trick 'r Treat comes to mind too) sit for years on a shelf, but instead i'd rather just direct you over to Amazon's UK page, where you can purchase either a DVD or Blu-ray copy of the film for pretty damn cheap (DVD for about $8, Blu-ray for $9). While the DVD will require you to have a Region Free player, I am happy to report that the Blu-ray is Region Free, meaning it will play on all Blu-ray players and Playstation 3's (I can confirm this, being that I just watched it on my PS3 tonight).




So while a US release date may not be coming anytime soon, you can still see the film both legally and cheaply by IMPORTING THAT UK BLU-RAY. I can't urge you enough to do so. Unless of course you'd rather just ignore one of the best horror films in years, like everyone else seems to be doing. Be my guest, but don't even think about complaining about the current state of horror if you're not gonna bother to support and seek out (LEGALLY!) quality films like this one ...