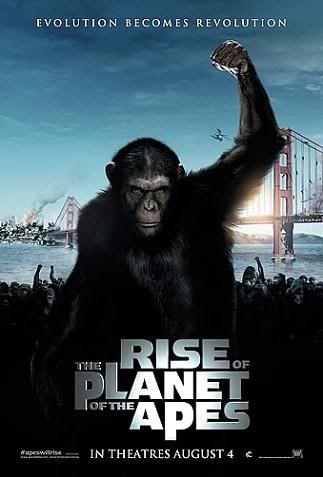 First off gotta say that I have literally zero history with all things Planet of the Apes. I never read the book, I never saw any of the original movies and i've only seen parts of Tim Burton's 2001 redux, enough to leave me with no interest to ever watch the rest of it. Here we are 10 years later and the franchise has been rebooted, prequel style, giving me my very first taste of the planet where the apes roam free. While I obviously can't judge or review this from a fan's perspective, I can with quite a bit of certainty say that what I saw last night was probably as much as any diehard fan could ask for in a modern day prequel. This is the opinion of an outsider, but I had a blast with these new CGI apes.

Rise of the Planet of the Apes is enormously entertaining, with a heart as big as its action sequences and CGI effects that are more impressive than any I have EVER laid my anti-CGI eyes on before. Movies with a cast comprised mostly of computer generated characters generally don't excite me or do much for me but to my surprise, I found the effects work in this one to in fact be the most impressive thing about the entire experience, moreso even than the movie itself. The effects are consistently mind blowing and there was never a single moment throughout the movie where I was even aware that what I was watching was CGI. That moment of disconnect when you realize you're watching a computer generated character on screen always takes me right out of a movie and I am quite surprised and pleased to report that I never had a single such moment during this one. Given the majority of the movie is obviously centered around the apes, that's pretty damn impressive.

A lot of the focus of reviews and praise for the movie has been placed on the shoulders of Andy Serkis, who in the past has brought to life (via the use of motion capture) everyone from Gollum to King Kong. There's a reason for that praise. As Caesar, the lead ape in the film, Serkis delivers an Oscar worthy peformance, bringing more humanity and emotion to a CGI ape than most human characters in recent film history. Again, Caesar and the rest of the apes, both their three dimensional characters and the amazing effects that brought them to life, are the real standouts here and Serkis leads the pack with a performance that steals the show. If only he could get as much respect and recognition as your typical actor.

Based on the trailers that we've seen over the last couple months, I didn't expect much more from Rise than a kickass summer action flick, an almost Syfy-esque B movie about giant apes ripping planes out of the sky and scurrying about a crowded city, crushing pedestrians. What I got was a wholly different experience, in the very best of ways. Though this franchise reboot is at times that apes gone wild B movie, where my eyes rolled to the back of my head from time to time, it's all wrapped in a bouquet of some serious heart and drama, making it a summer blockbuster with a lot more smarts and meaning than most. Some of the ideas and the overall message of the film are admittedly a bit generic and totally expected, but that doesn't hinder it in the least from being a powerful, beautiful (the camera work is stunning) and awe inspiring experience, emotional, entertaining and jaw dropping in equal quantities; I was always having fun, my mouth was frequently agape and my eyes were at times even leaking the salty stuff. What more can ya ask for from a summer action film?

I'd say this is the perfect start to what could potentially be a pretty kickass and hugely profitable rebooted franchise. I think it was about time for a new generation to enjoy those damn dirty apes.

One last thing I wanted to say is that I love that John Lithgow was in the movie, which I wasn't aware of until I saw him on screen. I feel like it's been forever since i've seen Lithgow on the big screen and his role as a caretaker of an ape reminded me of Harry and the Hendersons, which totally put a smile on my face. Lithgow is one of the more standout human characters in the movie, most of whom are fairly unmemorable given the large amount of focus that is put on the apes. But hey, it's Planet of the Apes ... what do ya expect?