Fright Rags has churned out more kickass horror shirts over the years than I can count on all the fingers and toes on my body (20 in total ... i'm kinda normal like that). On September 9th, less than one week from today, they unleash what I must say is my favorite shirt they have ever birthed unto the world, in the form of a timely tribute to the best Halloween horror movie this side of that one about the guy with the William Shatner mask that that Carpenter guy made. Yep, Fright Rags pays tribute to the spirit of Halloween itself with a Limited Edition run of

Trick 'r Treat

shirts and hoodies, with an attempt to appease Sam and get him off our backs this Halloween, by instead putting him on our chests. You ready to have your mind blown, spewing chunks of pumpkiny goodness all over your walls? You sure? Ok, but don't say I didn't warn you ...



CHECK OUT THE VIDEO TRAILER FOR ALL THE DETAILS!

The shirt will be available for three days only, from September 9th through the 11th, with the purchase link being deactivated once the clock strikes midnight on the 11th. Be sure you're a subscriber to the Fright Rags newsletter so that you'll be notified as soon as it becomes available.

While we're all in the spirit, here are 10 other kickass

Trick 'r Treat

items that are must owns for super fans of the movie. I am personally one of those super fans and I personally own most of these myself!





Trick 'r Treat

Blu-ray

This is a bit of an obvious one, and most fans of the movie probably own this already, but this Blu-ray disc is currently only $7.99 on Amazon (click above link to buy), so now's the time if you haven't gotten your hands on it yet. It comes with a snazzy slip cover and a bunch of special features which are not included on the DVD release. If you've never seen the movie, well, I don't think there's anything else from recent years that I can confidently recommend more than it, so what the hell are you waiting for?



Sideshow Collectibles' 15" Sam Vinyl Figure

This has been sold out for quite some time but you can still find it on places like eBay if you're willing to pay a hefty price tag for it. If ya ask me it's worth every penny, as it's one of my favorite horror collectibles I own. This pint size Sam comes with a half eaten lollipop, his trusty sack of treats and a removable sackhead mask, exposing his cute little pumpkin head.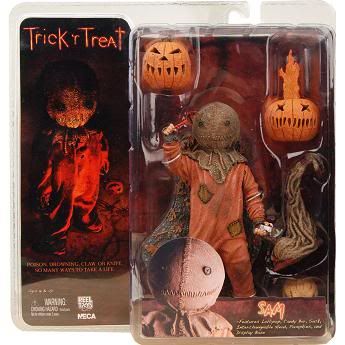 NECA's 6" Sam Action Figure

Sam gets a downgrade to 6 inch form in this figure from NECA (with an alternate unmasked head!), which was recently re-released by them as part of their 'Cult Classics Icons' series. Same figure, just in different packaging. I've seen this one at Toys R Us before, for cheaper than it can be found online, so keep an eye out for him whenever you stop in there. Jen and I were lucky enough to run into Michael Dougherty (the writer/director) when he was walking around at NY Comic Con a couple years back, and he graciously signed ours for us. Geek out.





Trick 'r Treat

Graphic Novel



Trick 'r Treat

started as an animated short and Dougherty brought the tales of Halloween terror back to their roots with this graphic novel, released around the same time the movie came out. It's basically the whole movie in comic book form, as drawn by several different artists (each story gets a different artist). Interesting to note that the artist interpretation of an unmasked Sam in this is quite different than what you see in the film!



House of Mysterious Secrets

Trick 'r Treat

Shirt

Your closet needs more than one

Trick 'r Treat

shirt, which is why you should probably own both the Fright Rags one and this one, an exclusive to online horror shop House of Mysterious Secrets. If you dig this shirt, then you just might like an upcoming giveaway you're gonna soon find here on Freddy In Space. Just sayin'.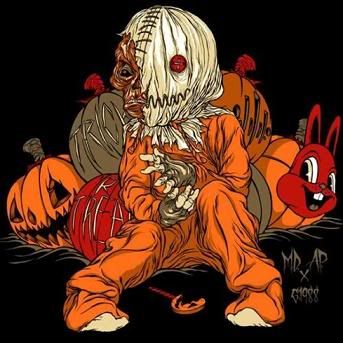 Alex Pardee's Limited Edition

Trick 'r Treat

Shirt

Ok, I lied. Your closet needs three

Trick 'r Treat

shirts. This one was designed by artist Alex Pardee in conjunction with Michael Dougherty and was sold in very limited quantities by Gallery 1888. Apparently some of the shirts in a size small are still available for sale, so click the above link to snag one if that size suits you and the design tickles your fancy. I own it and I love it.



Alter Ego Dezines' Sam Latex Bust

This is one of the most beautiful things ever created and I can say that with utmost confidence being that I bought one from artist Brian Dunn at a convention earlier this year. It's one of my favorite things in my entire house, a house that's packed with some pretty damn cool shit (if I may say so myself), and I find it to be worth every penny of the $200 price tag. If you're a

Trick 'r Treat

super fan, your home needs this in it.



Tom Whalen's Colonial Theatre

Trick 'r Treat

Print

Artist Tom Whalen whipped this up for a screening of the film last year at The Colonial Theatre in Pennsylvania, with the basis for the design being old school Halloween costume packaging. A friend of mine picked this up for me a couple months back and it's currently hanging right next to me as I type and embed all these images and links. Not sure where you can buy them, as Whalen doesn't have them for sale in his store, but i'm sure you can find one online if you do a little digging.



Sam 'Knit Terror' Doll

Love all this cool stuff but you just want to cuddle with Sam, rather than display him, wear him or watch him? Then this doll from artist Laurie Pizzi is what you're looking for, an export of her handmade business Knit Terrors. Gotta love it.



Mike Smash' Custom

Trick 'r Treat

Earrings

My boy Mike Smash is a master customizer, handcrafting both brutal dolls as well as snazzy earrings for the ladies, which are always packaged in equally snazzy custom packaging. This is one of his most clever and badass pairs, as he's turned both Sam and his candy bar razor blade into wearable pieces of art. Who wouldn't want to stick that in their ear?! If you want a pair, let me know and i'll put you in touch with Mike.

If i'm blogging about

Trick 'r Treat

, Halloween must be right around the corner. Goddamn I love this time of the year!!