Though released around the same time and cut from the same cloth as the still to this day mega popular

Garbage Pail Kids

trading cards, these exports of the gross out fad of the glorious 80's are relatively obscure little gems, so don't feel bad if the name Skateboard Smack-Ups doesn't ring any bells for ya. Released by Playtime Products Inc. in 1986, the line consisted of 12 figures depicting horrific skateboarding accidents, with the names of the characters referencing the damage they sustained while on their four wheel journeys, everything from cracking their heads on car doors to impaling themselves on tailpipes. Skateboard Smack-Ups took a lighthearted and collectible approach to highlighting the dangers of skateboarding, but as you might imagine parents didn't view them as public service announcements intended to keep their children safe. Granted they were merely produced to capitalize on both the gross out and skateboarding fads of the time, but I always like to see the good in things, especially when it comes to twisted toys from the 80's.

In any event, since violent images corrupt our youth and turn our children into sick individuals, parents complained enough to get the Skateboard Smack-Ups gang pulled from shelves, ensuring their place in toy infamy and only serving to drive up demand for them. What the lady i've quoted below didn't seem to realize is that comments like these only make kids want things like this all the more ...



"Toys like Skateboard Smack-Ups plant the ideas of insensitivity and invulnerability. I see that, really, as a prelude or precursor to violence and vulnerability. The world takes on an almost ominous quality, that being hurt is common"

- Psychologist Noelle Clark, September 9th, 1987

Being hurt is in fact pretty damn common, Noelle. And these things are totally awesome, just as they were back in the year of my birth. I'm pretty sure no kid ever played with these and then got on a skateboard and purposely rolled down a hill as fast as they could into a car door. Unless that kid's name was Steve-O, in which case i'm still pretty sure these little toys weren't the demonic voices in his ear that made him do it. In any event ...

I managed to track down images of all 12 of the Skateboard Smack-Ups, so here they are for your viewing enjoyment!!


RONNIE ROADKILL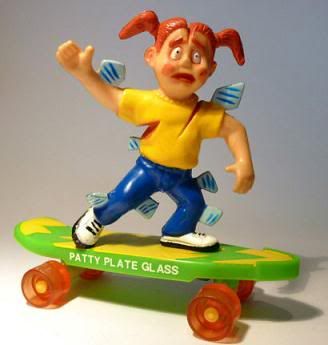 PATTY PLATE GLASS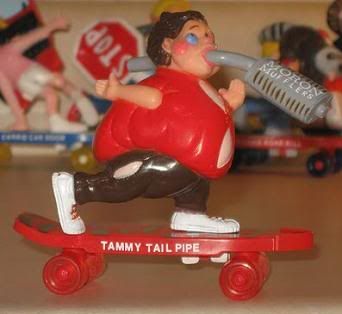 TAMMY TAILPIPE
WALLY WALLBANGER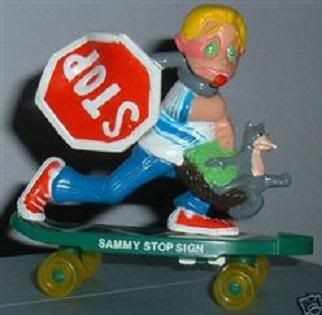 SAMMY STOP SIGN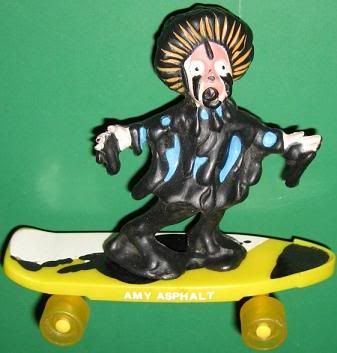 AMY ASPHALT

(or as Tarman calls her, 'the sexiest woman on earth')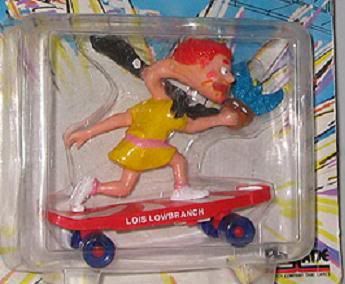 LOIS LOW BRANCH
BETTY BUMPERS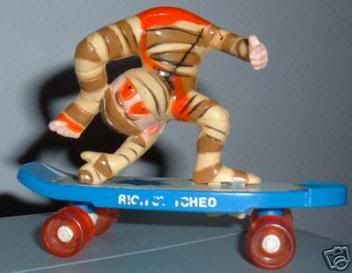 RICH STITCHED
TIMMY TIRE TRACK
TONY TRAFFIC CONE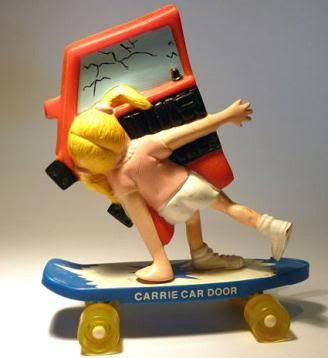 CARRIE CAR DOOR



Isn't it funny how the times change? Nowadays you can walk into Toys R Us and buy Jason Voorhees action figures, complete with the severed heads of his victims. You can also flip past any number of channels on any given night and watch entire shows dedicated to showing videos of real life accidents, with witty commentary intended to make you laugh at the horrific misfortunes of others. Suddenly, little skateboard toys of kids with their heads up raccoon's asses don't seem so horrible anymore, am I right Ms. Clark?