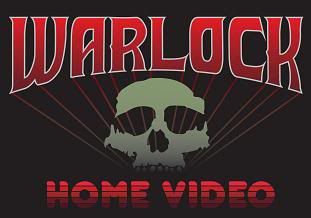 Die-B-Que

.

Death O'Lantern

. Do those horror movie titles sound familiar to you? If not, no worries. They probably shouldn't. Released back in 1986, these two shot on video horror flicks were never actually released to the mass public. And they're not alone. There are literally hundreds of similar shot on VHS films from the 80's-early 90's that never saw the light of day, for one reason or another. In fact, they don't even have IMDb pages, that's how obscure the passage of time has sadly made them. Enter Warlock Home Video, the new brainchild of Low Budget Pictures' Chris Seaver, which is all set to re-animate these lost films and at long last bring them into the public eye, on both DVD and the VHS format that they were originally intended to be seen on. Though the Warlock website isn't officially launching until October 1st, pre-orders are now open for a few of the titles they've dug up from the grave thus far. Lets take a closer look at the two aforementioned films that Chris is pulling right out of the 80's!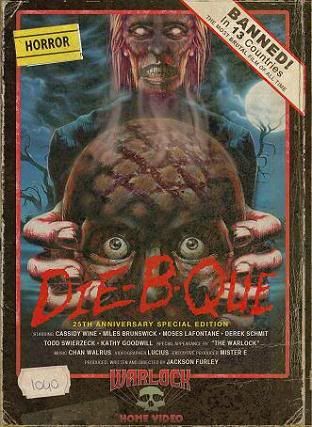 Rick and DJ are throwing the biggest BBQ the town has ever seen. All of the most popular kids will be there. What they don't know is that their BBQ is about to turn deadly. When a diseased rat stumbles upon the party and urinates on their steak, there will be more than just fine meats on the menu. Who ordered a side of DEATH!? Anyone that digests the meat will become flesh eating zombies! The only ones that can stop this party of sheer terror are all around do-gooders, Moon Beam and her muscle bound hunk, Brody. Witness what many are calling the "most brutal film of all time". Die-B-QUE will make you scream till you're hungry for more!



Halloween 1986. The kids of Sleepy Hollow High are about to have a very unexpected visitor during their annual Trick Or Treating adventures around town. The evil pumpkin headed killer, "Stingy Jack", is back to steal the souls of the children who happen to be the ancestors of the ones that sent Jack to the pits of hell in the 1800's. Phoebe, along with her best friends, uncover the true story of what happened to Jack and take it upon themselves to destroy the demon once and for all. State of the art special effects by DARK MAGICFX and a now, hip soundtrack featuring Cube Squared and Radikill will have you pulling this classic out year after year during the spooky season. Don't go kicking this pumpkin kids, Because this evil gourd will have you screaming to DEATH!



The DVD's and VHS' of both are available for pre-order for $10 a piece or can be purchased together for a mere $15. In addition, posters of both films are selling for $13 a pop. Head over to Warlock Home Video to see more of their upcoming titles and keep an eye on the site for the official launch on October 1st!

Disclaimer : While these films were all shot on video, they are actually being made in the present day, rather than in the time periods they claim to hail from. Chris Seaver and company are just trying to help us all relive a certain era in the genre and Warlock is going to be playing host to their line of films that are made to look like they're from times gone by. Does that make these any less cool? If ya ask me, it makes them even cooler. So now that we've established this, sit back and let Warlock transport you back in time with this promo video that'll give you an idea of what to expect from their retro releases!