Before we get into a brand new giveaway, I want to first announce the winner of the last giveaway, which was for a kickass Pennywise the clown mask from HalloweenCostumes.com. In order to enter you had to guess how many pieces of candy corn Sam had left over from last Halloween ...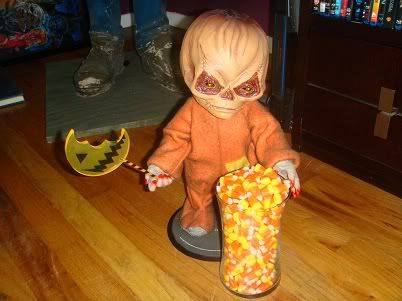 ... with the person coming closest to the actual number being chosen as the winner of the mask. Believe it or not, one lucky commenter placed a guess that was within one number of the actual number. The actual number of pieces of candy corn in Sam's little jar was 331, and a man by the name of CHAD MILBURN was the winner of the giveaway with a guess of 332 pieces. So congratulations Chad and you will be receiving your Pennywise mask in the mail real soon. Have fun with it and try not to scare too many little kids. Actually, scare as many of them as you possibly can ... and send me a picture and/or video of you doing it!!

By the way, for anyone who's thinking of leaving a jar of candy corn in a room that's been known to have a high density of ants, I encourage you to put a lid on them or abandon that idea entirely. Poor Sam's little jar was infested with a shit ton of ants the day after I made the giveaway post, forcing me to toss them all in the garbage. Thankfully, I had counted them prior to the infestation!

But anyway, speaking of Sam, let's get on with our next giveaway!!

A while back I gave away a Freddy Krueger piece from Popsic Art, a company that specializes in hand cut 3D art pieces based around the world of pop culture. Today, Popsic Art returns with another little treat for you all, one that is quite fitting to where we are on the calendar right about now ...




This piece of papercut artwork is completely hand cut, glued on layer by layer, and is housed inside a beautiful black wooden frame, with the capability of both sitting on a shelf or hanging on your wall (the wire to do so is included on the back). The framed piece is 5" by 5" and goes for $25 over at the Popsic Art shop. But since artist Joshua Zaitz loves you all, he's graciously sent one to me to give to one of you guys or gals absolutely free of charge. What could be better than that?!

All you've gotta do to enter is leave me a comment below with your e-mail address and the answer to the following question :

- If you could see one scene from

Trick 'r Treat

in three dimensions, which scene would you choose and why?

Giveaway is open to everyone and will run through next Friday, September 30th. Good luck to all and be sure to check out Popsic Art for more awesome 3D artwork!