Whether you love his movies or watch them only for the extreme gore, I don't think it's possible to be a hardcore horror fan and not have some serious respect for Sir Lucio Fulci (yep, I just took it upon myself to knight the man ... what are you gonna do about it?). He's provided us the joy of watching so many humans, zombies and even sharks meet horrifically gruesome fates, never shying away from showing us exactly what our sick assess want to see, and for that he simply must be commended and honored. And what better way to honor the king of gratuitous gore than by turning him into a cute little bobblehead doll?

Ok, so i'm not sure how we got from point A to point B there, but toy company Cult Collectibles just took it upon themselves to handcraft a Lucio Fulci bobblehead and it's pretty fuckin' sweet. Part of their "Weird Wobbler" line, which also includes a wobbly version of that little zombie girl from

The Beyond

, complete with alternate exploded face(!!!), the bobblehead is limited to only 1,000 individually numbered pieces and is now available for pre-order from their site. Here's all the info you need!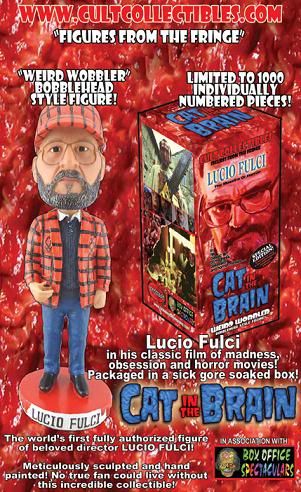 CULT COLLECTIBLES in association with GRINDHOUSE RELEASING/BOXOFFICE SPECTACULARS is proud to present the world's first fully authorized figure of legendary Italian director, Lucio Fulci from his 1990 film, CAT IN THE BRAIN!

The film features the acclaimed Italian horror maestro Lucio Fulci (director of such genre classics as ZOMBIE, HOUSE BY THE CEMETERY, THE BEYOND, CITY OF THE LIVING DEAD and more), starring in this blood-soaked epic as a director being driven insane by his own movies. Fulci is thrust into an ultra-violent nightmare of death and depravity where murder and madness consume his sanity in a vortex of violence!

Outfitted in the flannel "hunting outfit" fans love from the film, Fulci also holds a pipe and stands on a blood dripping base. No true fan of Lucio Fulci and Italian horror cinema would want to be without this! FULCI LIVES!!!

PRODUCT DETAILS:
-Limited to 1,000 individually numbered figures
-7 inches of lightweight polyresin
-Meticulously hand sculpted / painted likeness
-Housed in a awesome full color gore soaked retail box designed by Stephen Romano
-Special exclusive LUCIO FULCI trading card available ONLY during pre-order period from Cult Collectibles!
______________________________________________

You can pick up your very own Fulci bobblehead for $16.95, which will ship out to you in early December. Check out more pictures and snag one for yourself or for a friend (they make great Christmas gifts!) over at Cult Collectibles : Figures From The Fringe!



I own

The Beyond

'Weird Wobbler' and trust me when I say that these things are totally awesome and are made with the utmost quality and care. In other words, they come fully backed with the Freddy In Space seal of approval!