Everybody's got their own way of wishing you a Happy Halloween and Fright Rags' way just so happens to be by releasing two new t-shirts and limited edition posters, honoring two of the very best horror movies in recent history. They simply wouldn't have it any other way. Isn't that why we love them so damn much?

Check out the new

Behind The Mask

&

Hatchet

Fright Rags merch, for my money some of the best stuff the company has put out to date!


*Limited to 125 prints and signed by Leslie Vernon himself, Nathan Baesel*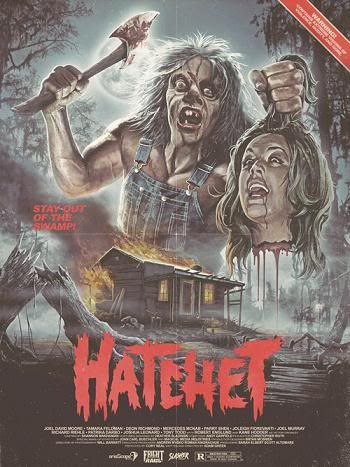 *Limited to 250 prints and signed by Kane Hodder*



The fact that Adam Green and Fright Rags have teamed up just makes me so damn happy. When they first told me the news a while back I was absolutely ecstatic and I couldn't be happier about the retro VHS style artwork they came up with for the shirt & poster, which is so perfect and fitting for the film. From what i've heard, Green himself was blown away by the art and said that he wished this was the original poster for the film. Ben told me that artist Justin Osbourn designed the art as if he had never actually seen the movie, as that's the way many of those old hand drawn VHS box arts were done, which really gives it that slightly off old school vibe that perfectly captures what they were going for with the design. My opinion may be a biased one whenever it comes to anything

Hatchet

related, but this shirt is in my opinion the best one Fright Rags has ever come out with, which is saying quite a lot being that they've put out some seriously awesome shit in the past.

Anywho, both shirts are also available as hoodies (rocking my Leslie Vernon one as we speak!) and remember, the posters were only printed in very limited quantities, so get on that quick if you want one/both of them. Get the shirts and posters over at FRIGHT RAGS!!