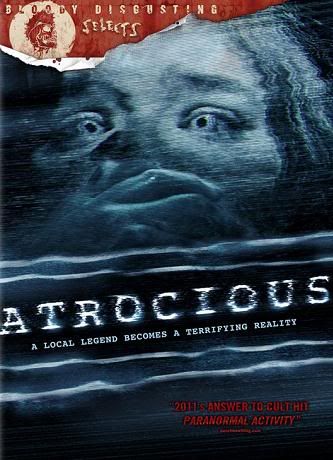 OUT NOW ON DVD!



In April of 2010, Spanish police reported the discovery of 37 hours of recorded evidence that shed new light on a gruesome murder investigation. The found footage documents a family of five spending their holidays at their summerhouse, where brother and sister Cristian and July Quintanilla pass the time investigating a terrifying local urban legend. As their investigation intensifies, strange occurrences in and around the house escalate rapidly, before culminating in unspeakable atrocities.



I think it's safe to say that most of us like to watch horror movies because we enjoy being scared. Even though many of my favorite horror movies are ones that were never intended to be scary, I love nothing more than to be scared shitless while watching one, which is quite rare, especially these days. Due to the fact that it is so rare for my 25 year old desensitized self to find myself scared by a movie, I get incredibly excited whenever any horror movie is hyped up as being the next great scary movie.

Atrocious

, released this week by Bloody Disgusting Selects, is one such film that has been getting a lot of hype lately within the community, with many friends of mine touting it as one of the scariest and best found footage horror flicks in some time. Naturally, I found myself quite excited to sit down and watch it tonight, lights off and the volume way up, totally thrilled about the idea of having the daylights scared out of me and being forced to plug in the nightlights at bedtime. Such is the dream of the horror fan, is it not?

So ya, the Spanish made

Atrocious

is another in a recent string of found footage horror films, which have been coming at us hot and heavy in the last several years with no signs of slowing down (especially since

Paranormal Activity 3

just did big numbers at the box office). As i've said in past reviews of similar movies, i'm pretty damn burnt out on the whole found footage horror thing at this point. If someone comes along and does something interesting with the idea or tells a compelling story through the use of the format, such as a

Paranormal Activity

, an

REC

or an

Evil Things

, I can fully get into the style and find that it actually enhances the viewing experience and scare factor. But here's the problem. Most of the found footage horror films that have been unleashed in the wake of

Paranormal Activity

being such a money making hit have been totally devoid of story and lacking in anything new or original, with the gimmick being used as a crutch more than a means to enhance the storytelling. Thus, we've ended up with a slew of cookie cutter found footage horror films in the last few years, carbon copies of one another that are totally predictable at every turn and are in fact even hard to differentiate from one another. While

Atrocious

isn't necessarily a bad movie, it does unfortunately fall more into this category than it does any other, at least in my eyes.



Atrocious

is pretty much found footage horror 101, part

Paranormal Activity

and part

Blair Witch Project

, with a little

REC

and even a little

Ring

thrown into the mix, full of night vision scares and characters running around with shaky cameras screaming in the dark. Maybe i'm just desensitized to all of this being that i've seen so many similar movies, but it just didn't work for me. I never found myself scared and, because what little story that was there was so predictable and cookie cutter, I never found myself engrossed in it either. Even at just over an hour and 15 minutes, I still found myself bored by the majority of the movie. For me, it was just another one of those found footage films that relies solely on the concept, throwing a bunch of characters into a supposedly haunted area, armed with cameras, and allowing them to run around, scream and see something spooky every once in a while. Sorry, but i've seen it all before.

Now if I did like anything about the movie it was that the last 15 or so minutes, the only moments in the movie where anything really happens, were pretty effective and well done, particularly a twist ending that i'm not gonna lie and say I saw coming. I sorta wonder if the movie would've been more effective had we been kept in the dark about what exactly was causing the events in the film, rather than having that twist thrown in, but it was fairly cool and provided for a couple nice little moments at the end, which I admit might've spooked me out a bit had I been alone in the house watching it tonight. So props to the film for that.

One more thing I just want to mention is how the film is cut together, with the beginning and end utilizing a rewind effect that takes us backwards through the found footage and, particularly at the end, is used to manipulate us and sort of Tarantino the story by showing us the end of the tape and then going back in time and showing us stuff we didn't see before. I don't mind that in a regular movie but when it comes to found footage, I always hate stuff like that that takes you out of the realism of what you're experiencing. Kinda like when these types of movies have CGI (

Grave Encounters

) or a score running through the background (

Evil Things

is at times guilty of that). Are we really supposed to believe that the police found this footage of people being murdered and then stylishly re-edited it to make it more entertaining and scary? It's a minor gripe here, but it's something that always bothers me about these movies.

Anyway, I oftentimes feel like i'm just tired of these found footage movies as a whole but i'm beginning to realize that that's not really the case. It's not that i'm tired of found footage horror, i'm just tired of watching the same found footage horror movie over and over. Like with any type of horror movie, whether it's found footage or a zombie movie or one made on a budget of 20 bucks, i'm just looking for a good story, one that brings something new and exciting to the table, and it seems found footage horror flicks more than any other type are continually unoriginal and uninspired, oftentimes only being made to cash in on the success of the good ones, which I guess is why I feel like i'm just through with them. I thought the same thing about vampire movies until

Stake Land

came along and the same about zombie movies until

Zombieland

came along and i'm sure a found footage horror film will soon come along that will restore my faith in the filmmaking style. For now,

Atrocious

did not do the trick.