Less than half an hour after writing up the post below where I asked you guys about the origins of the above Halloween decoration, which has been in my family for as long as I can remember, I received all the answers to my years of questions about the thing from a reader by the name of Will Edwards. In one quick sentence and with one single image, Will ended a lifelong mystery for me...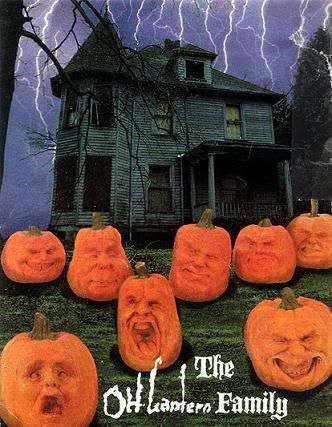 "OH Lantern Family, sculpted by Todd Masters circa 1987"



After doing some research on the 'OH Lantern Family' foam pumpkins, James OH Lantern being the one i'm in possession of, I found out some pretty interesting little tidbits. For one, these were sold in gift shops including Hallmark, which makes total sense being that my mom since well before 1987 has worked in a store that has a Hallmark in it (which I now also work in). That explains the 'where the hell did this come from?' question i've always asked myself. And secondly, the sculptor, Todd Masters (whose name I now realize is still faintly visible on the bottom of the one I have), was at the time and still is a Hollywood makeup artist, with movies such as

Predator

,

Elm Street 5

and more recently

Slither

and

Super

under his belt. He's also done a lot of televison makeup work for shows the likes of

True Blood

,

Six Feet Under

and

Tales From The Crypt

. In other words, Masters has been involved with some of my very favorite things on this planet, which makes me love my little pumpkin dude all the more. What a small world this world of horror is, eh?!

Check out some original catalog images of the OH Lantern Family, which give some brief descriptions about each individual member. From what I gather, this information was also included on tags that came affixed to the foam pumpkins.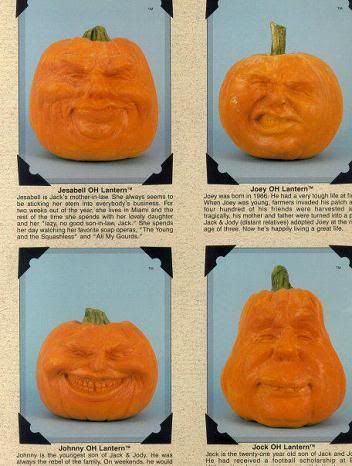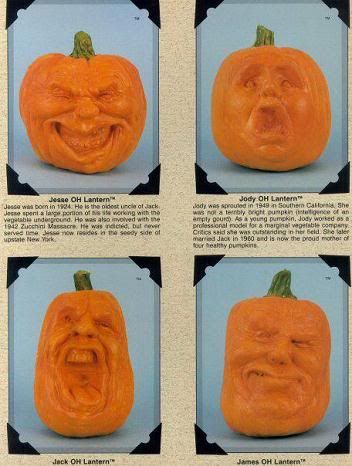 Masters' pumpkins sold so well that the year after their release saw another line of them, this time comprised of baby OH Lanterns.




The massive success of the line also resulted in several companies aping the human faces on pumpkins idea, a trend that continued for years to come. They've no doubt also served as an inspiration for the recent trend of sculpted (rather than carved) pumpkins, such as the ones artists like Ray Villafane have become known for. I should also note that Masters sculpted all of his creations based off of his own face, which he contorted in strange ways to come up with the different looks.

Thank you so much for finally ending this mystery for me, Will. And thank you gods of Halloween for making the answers to my questions so damn interesting and satisfying. I've always loved this thing but now I am filled with much more of a love and appreciation for it. The dude that sculpted this did makeup work for some of the best movies and shows ever in existence ... how fucking cool is that?!