When I started up Freddy In Space, I never envisioned that I would someday be able to play host to my very own cooking show. But tonight, in the spirit of Halloween, i'm going to be doing just that, as I recount my recent adventures in making my very own homemade candy corn. I've always been a lover of the stuff and when I found a recipe online that promised me that I could make it myself (who knew?!), I simply had to try it. So come with me, will you, as I channel my inner Martha Stewart and do something a little bit different 'round these parts!

I shall start where all cooking shows start; with the ingredients ...




Needed for this particular recipe was 8 ounces of mini marshmallows, a pound of sugar in its delicious powdered form, two tablespoons of water (some dude at some point suggested that the high rates of cancer in my area may be attributed to the tap water, so I don't take my chances) and yellow and orange food coloring, the latter of which I discovered through this experiment is never found in any collection of food coloring available in stores (thankfully, red & yellow's lovechild is, you guessed it, orange). As for the beer and the

Halloween 2

DVD, neither are required ingredients for this recipe, though I find it criminal to make any Halloween themed treat without a pumpkin beer in your hand and a horror flick playing on the TV. Swap it out with any movie of your choice. As long as it's not Zombie's

H2

. I kid. But seriously.



**CANDY CORN FUN FACT : AN ESTIMATED 20 MILLION POUNDS OF CANDY CORN ARE SOLD EVERY YEAR!**






The first step is dumping the marshmallows (4 heaping cups worth) into a bowl, tossing the water on top and then placing the bowl into the microwave until the little guys start to get all puffy and gooey. You know how when you put a Peep in the microwave it gets all soft and mega sized? Ya, that's what we're going for here. Oh and my microwave isn't really that filthy. It just shows up that way in pictures sometimes. Must be the spirits of messy experiments past. I swear.




The recipe called for a nukeage time of only a single minute on high but my marshmallows required nearly double that before they were able to be stirred into this slimy consistency. Give them as much time as they need in there until stirring them around with a rubber spatula makes them free of all lumps. Good, now give the melted marshmallows a taste. Pretty fuckin' yummy, eh? Savor it while I give you another fun fact that I may have stolen from Wikipedia.



**CANDY CORN FUN FACT : OCTOBER 30TH IS NATIONAL CANDY CORN DAY!**






Now add that powdered sugar to the mixture, all at once. Stir until you can stir no longer, which should happen pretty soon, as you'll find that the mixture of powdered sugar and nuked marshmallows quickly becomes a mess of hardened and super sticky goop. Yum.




Using whatever means you have to, get the sticky mixture out of the bowl and onto a cutting board or large flat surface that's coated with powdered sugar. Be sure to also coat your hands with the sugar. Now it's time to knead the tacky dough into a giant ball, which is a lot easier said than done. The stuff is so sticky that it will literally adhere to your hands like super glue, but you've just gotta keep working with it and keep adding powdered sugar to the ball in order to finally make it round and free of tackiness.




It takes a while and a lot of manpower, but it will eventually happen. I promise.




Now you must divide the ball into three smaller balls, each one representing a different color of the candy corn. You're gonna have to keep one ball white and turn the others yellow and orange, respectively, which you'll have to do by adding drops of food dye and kneading them into the balls.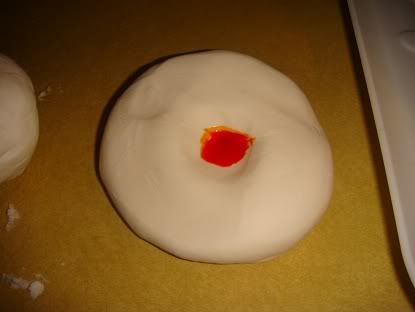 As you might expect, your hands are gonna turn strange colors during this step of the process, but don't let that discourage you. Keep adding food coloring until your balls are fully colored.



**CANDY CORN FUN FACT : CANDY CORN WAS INVENTED IN THE 1880'S. THE RECIPE HAS REMAINED PRETTY MUCH THE SAME AFTER ALL THESE YEARS!**






You may notice that the yellow ball looks like a ball of yellow Play-Doh while the orange one looks like the color isn't fully taking to the dough. This is because I used regular food coloring on the yellow one but didn't realize that I accidently bought gel food coloring to make orange, which proved to be very difficult to work with. The color just wouldn't dye the dough no matter how much I added, but I eventually got it looking somewhat decent. So if you're gonna make candy corn off of this recipe, be sure to get regular food coloring!




Now it's time to roll out the balls into strands, atop your powdered sugar covered workspace. I ended up dividing the balls into even smaller balls, because I found it impossible to roll out such big strands without them falling apart. Slap the small balls onto the cutting board and roll them out with the palms of your hands till they look something like mine did above. Hopefully yours will look a whole lot nicer.




Now you've gotta adhere the three strands together, which you're gonna have to wet them quite a bit to do. Once they're conjoined, flatten the multi-colored strand out with a rolling pin. Now it's time to turn this mess into candy corn, which you do by cutting the strand into alternating triangles. After a few well placed slices with the knife, you should end up with a whole bunch of familiar looking little treats ...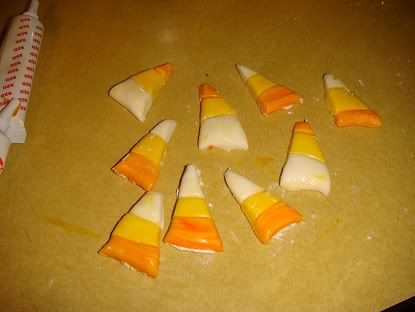 I could've made hundreds of these little guys but I got tired and lazy and only cut up one strands worth, before getting fed up with the whole operation and tossing the rest of my dough into the trash. The whole thing was just so sticky and messy and I didn't want to deal with it anymore. Besides, I got my fun out of it by that point.

So they look like candy corn, but do they taste like candy corn? Well, if they did, I probably wouldn't have thrown them out despite how hard they were to work with. This recipe yields treats which look and walk like candy corn, but taste like nothing more than sticky pieces of marshallow covered with powdered sugar. It's not a bad taste, but the results just simply don't taste like what was promised, which makes this one a failure in my eyes. Given that one of traditional candy corn's main ingredients is honey, i'm not sure why I expected anything more than what I got. I suppose I just have far too much trust in internet recipes.

In the end I was left with yellow Jaundice hands, a stomach ache from eating far too much marshmallow dough, a whole lot of dishes and a reminder that some things are better off left to the pros. It's a good thing I had a bag of these in my pantry...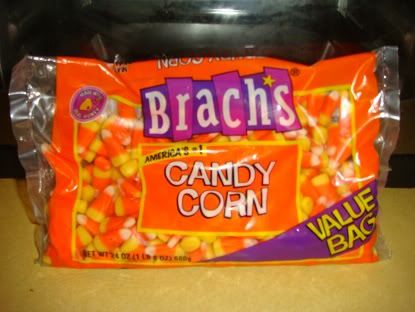 So maybe you can't really make candy corn in the comfort of your own home, but I gotta say I had a lot of fun drinking beer, watching

Halloween 2

and at least giving it the old college try. It's a fun October craft night, whether the results are impressive or not. And hey, if nothing more, I got a blog post out of it, so I can't ask for much else.



**THE FINAL CANDY CORN FUN FACT : AFTER THE SUCCESS OF THESE CORN KERNEL SHAPED TREATS, COMPANIES EXPERIMENTED WITH OTHER VEGETABLE SHAPED CANDIES, SUCH AS TURNIPS, WHICH NEVER QUITE CAUGHT ON!**



Time to make that bag of Brachs' disappear. I hope my dentist isn't reading this.