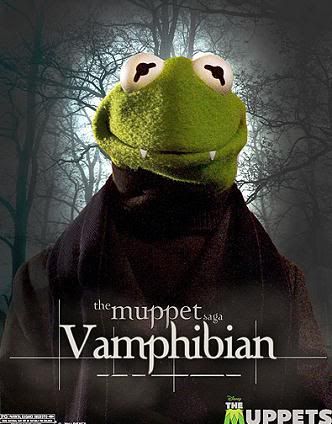 The Muppets

returned yesterday with their first big screen release in over a decade, a feature length film that sees super fans of the lovable puppets setting out to save The Muppet Theater from being demolished and drilled for oil. I never got into the whole

Muppets

thing, instead spending my childhood with The Ultimate Warrior & Freddy Krueger, but I know a lot of you guys and girls are mega fans of that whole world and so I wanted to celebrate this release by posting some great

Muppets

horror mashups that have come out over the years, times where the two totally unrelated worlds joined forces to create pure awesomeness. Consider it my Thanksgiving gift to you

Muppets

fans!





THE MUPPET SHOW - SEASON 1, EPISODE 19



In this segment from the

Muppet Show

episode where Vincent Price guest starred, Kermit drops fang and goes for the horror icon's jugular, an unexpected twist of fate for the actor who was generally the one doing the biting. Price appeared in the entire episode, many segments of which can be seen over on YouTube.





MUPPETS GO TO THE MOVIES - NEPHEW OF FRANKENSTEIN





The Muppets Go To The Movies

was a 1981 TV special which saw Kermit and the gang spoofing various different films. This segment was a tribute to 1950's horror films, introduced by

The Incredible Shrinking Woman

herself, Lily Tomlin. In it, Fozzy Bear gets the electric chair. Hey, that rhymed.





HOUSE OF 1000 MUPPETS



This brilliant fan made mashup features dialogue from Rob Zombie's

House of 1000 Corpses

trailer laid over actual

Muppets

footage, a combination which proves quite awesome.





THE MUPPETS : SAW TRAILER



Another fan made mashup, this time seeing

The Muppets

fused together with the

Saw

films, a trailer for a faux movie that sees Miss Piggy taking on Jigsaw's work (Pigsaw?) and putting

The Muppets

into deadly (and hilarious) traps. Goddamn I would love to see this as a real movie!





THE MUPPETS 2011 PARODY TRAILER



In addition to the

Twilight

spoof posters Disney came up with to promote this latest big screen adventure (as seen atop this post), they also cut together a trailer for the film that spoofed several other movies, including

Paranormal Activity

. Not much of the trailer is devoted to that spoof, titled

Abnormal Activity

, but it's worth the watch nonetheless.





And finally, Fright Rags' epic tribute to

The Muppets

, an upcoming t-shirt mashup between them and

Re-Animator

. This sneak peek is the only image available so far but i'll be sure to let you know once the full image is revealed and, of course, once the shirt goes up for sale on the site!

Happy Thanksgiving everyone!!