You probably heard and were quite pleased to hear that over the weekend makeup artist Dick Smith was given an honorary Academy Award. Though he shared an Oscar win with another artist in 1984 for their work on

Amadeus

, this award was solely for Smith, in celebration of his lifetime of incredible achievements in the business. Being that he played a major part in the magic of some of the most classic films of all time, including

The Godfather

&

The Exorcist

, bringing both Don Corleone and the demonic Regan MacNeil to life and inspiring future makeup artists for years to come, I really can't think of a more fitting person to finally be awarded with such an honor. Bout damn time, says I!

Check out touching video of Smith's acceptance of the honorary Oscar, which was presented by fellow makeup artist Rick Baker!



In honor of this momentous occasion, I wanted to share my personal favorite piece of Smith's work, the brilliance of which never ceases to amaze me. If I told you that my favorite makeup job he ever did was from

The Exorcist

, you'd likely assume I was referring to the incredible job he did turning a cute teenage girl into one of the most frightening and evil monsters ever to grace the silver screen. While I do unquestionably find that to be one of the finest makeup jobs in horror history, it's the subtle but equally brilliant work he did on bringing Father Merrin to life that impresses me the most. Why? Because it's the only makeup job in the history of my movie watching career that actually 100% fooled me into believing it wasn't even a movie makeup job. As Smith himself has stated,

"a good makeup doesn't look like makeup"

, and there's perhaps no better example of that statement than the masterpiece he created on Max von Sydow's face back in 1972.

One of Smith's most well polished skills is old age makeup, a skill that nabbed him the Oscar for

Amadeus

and also scored him another Oscar nomination for 1989's

Dad

. When

The Exorcist

was filmed, actor Max von Sydow was just 43 years old, though you'd never know that from watching the film. Under Smith's makeup, a painful three plus hour process that consisted of skin pulling and liquid latex application, von Sydow appeared several decades older as the aged priest Father Merrin. The makeup job was so effective that for several years I had no idea that von Sydow wasn't in at least his 70's when

The Exorcist

was made, and I was quite shocked to discover when I looked him up on IMDb several years back that he was in fact still alive (in my mind, he was surely well over 100 years old by that point in time!). It was in the moment that I saw von Sydow's date of birth that I realized just how much of a master Dick Smith was, a true artist whose canvas was the human face.

Here are a couple side by side shots to showcase just how seamless and amazing the Merrin makeup job was. First up, a look at von Sydow before the application of the makeup and then after.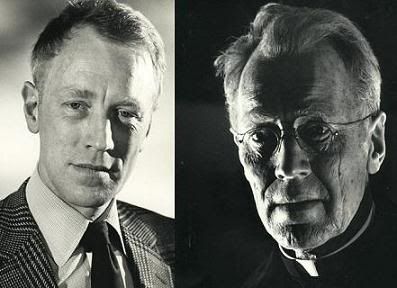 And now, just to drive my point home, here's von Sydow under the old age makeup and von Sydow as he appears today, looking strikingly similar to how Smith envisioned him looking as an older man.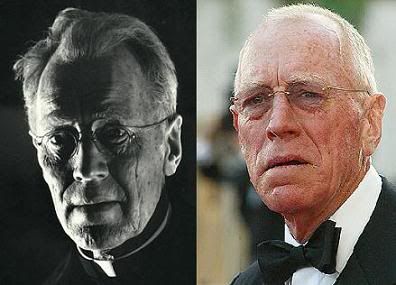 Now that's what I call movie magic. If my years of watching movies have taught me anything it's that old age makeups are very rarely ever convincing and oftentimes quite laugh inducing, which makes me appreciate a good one that much more. And when it comes to old age makeup, it just doesn't get any better than this.

Just to throw a little cherry on top of the icing that's already been spread all over this cake, I must mention that Stellan Skarsgard, who played the younger Father Merrin in 2004's

Exorcist

prequel, was actually about 10 years older at the time of filming that movie than von Sydow was at the time of filming the original

Exorcist

. Give that one a few seconds to sink in.



(Smith is currently 24 years old, don't let the makeup fool you)

Congratulations on the Oscar, Mr. Smith. Let's consider this your long awaited win for

The Exorcist

, an award you only didn't win at the time because, well, there wasn't a makeup category around until '81. You are a true master, a true inspiration, and a true living legend in the worlds of both horror and Hollywood as a whole.