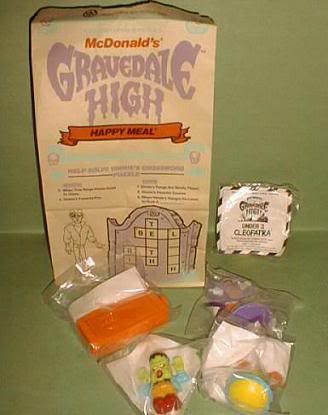 This week's video takes us back to 1991, when McDonald's released Happy Meal toys based on

Gravedale High

, a short lived animated TV series that featured the voices of Rick Moranis, Ricki Lake & Jackie Earle Haley and centered around the trials and tribulations of Moranis' character, a teacher who was the only human being in a high school full of monsters. Though the show only lasted 13 episodes, it no doubt laid the groundwork for the more cutesy Monster High line of dolls that are on the market today.

Check out the vintage commercial for the

Gravedale High

Happy Meal toys, which are really the only toys to my knowledge that McDonald's ever threw in their kids meals that had a horror theme to them, aside from their annual Halloween pails. Enjoy!



The intro to the show along with many full episodes can be found over on YouTube, if you'd like to dig further into this gem from the past!