Before I get into my little rant about the sad current state of my favorite holiday, I wanted to show a couple pictures of the costumes Jen and I wore this year, which we donned for a costume party this past Friday night at a local restaurant. Jen decided to go all out this year and hand make her costume, with her inspiration being the frighteningly sexy nurses from

Silent Hill

. She took an old nurse outfit that she wore a couple years back and splattered fake blood all over it and even paper mache'd her own mask. It came out awesome and, just like in the movie, she was pretty frightening and strangely sexy at the same time. Maybe it was the ample cleavage that did the trick in that latter department. Check out a couple pictures of her handiwork!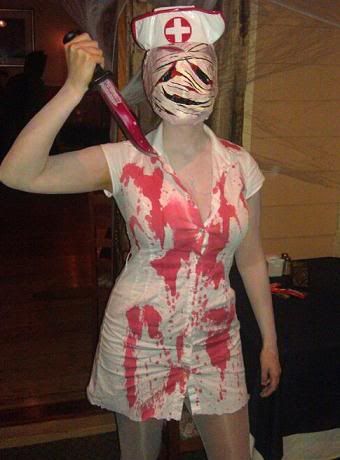 Stop looking at my girlfriend's legs, will ya?

I took the opposite approach, the one where you're too lazy to come up with a costume until 10 minutes before the party. Moreso than being lazy though, it was largely an issue of being flat broke once the weekend rolled around. I was pretty broke throughout all of October, which really dampened my spirits this year, as I couldn't afford to attend any haunts, buy any decorations or even pick and carve a single pumpkin. It's not that I make minimum wage or anything, but the fact that we've been going on so many weekend getaways lately, to conventions and more recently to Rochester, has really put me in a hole that i've been slowly trying to dig myself out of. Unfortunately, when in that hole, things like buying Halloween decorations and paying costumed actors to scare the shit out of you fall by the wayside. It's my own fault and I should've been smart enough to save up a bit for this most expensive of months, but I still couldn't help but feel bummed out all month.

Anyway, I was pretty sure i'd just slap on a mask I had lying around the house and go to the party with that on but once Friday night came rolling around and I got a hold of how awesome Jen's costume was, I simply couldn't resist heading out to my local Spirit Halloween to dig myself further in the hole and try to come up with something serviceable. After all the October fun I missed out on all month, I wasn't gonna deny myself the joy of dressing up in a costume this year. Not gonna happen. A

Ghostbusters

costume caught my eye while in Spirit and since it was only $40, plus a 20% off coupon I had, I went for it. Being that I have a big beard I figured i'd just be the bearded Ghostbuster but then I went one step further and picked up a wig, an even bigger beard and some faux barbed wire and decided to be the one, the only ...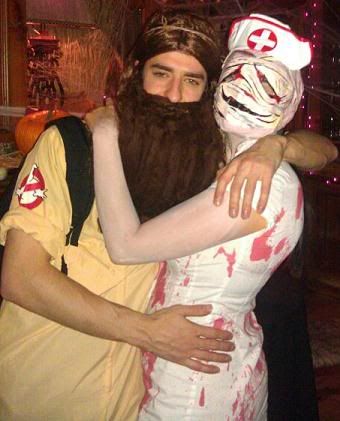 Jesus Christ, Ghostbuster ... busting ghosts for the lord!

Everybody always says I look like Jesus anyway so I figured i'd just run with it this year. Admittedly not as impressive as last year's Count Chocula costume, which won me the 2nd place prize at the same costume party last year, but I was just happy I at least pulled something together. Of course I pretty quickly regretted dropping over $50 on the costume once I put it on, as every single component of it was cheaply made crap, including the inflatable proton pack which deflated as soon as it was filled up (I swapped it out with a school backpack), but I guess you can't expect much else from store bought costumes. It amazes me the racket these companies have got going on, charging $50-$100 for such poorly made garbage. But hey, I guess people like me buy the crap, so you can see why they don't care to spend more to make better quality stuff. Lesson learned here was that if you want a really cool costume, like Jen's, you've gotta just be creative and make your own. To that I say, there's always next year. Here's to not being so lazy next year.

Now that that's out of the way, onto the rant.

So last night, Halloween night, Jen, myself and our friends Jesse & Lindsay went out trick or treating, which has become a yearly tradition for us (all of us are over 20 and still proudly keeping the spirit alive). Jen and I opted for just throwing on masks we had around the house (I chose my old Ghostface mask) and took to the town, only to find that even at 8pm not a single kid was out trick or treating and 90% of the houses had their lights off and weren't handing out candy. Couple this with the fact that we got a grand total of four small groups of trick or treaters at our house all day/night and I was left with a feeling that Halloween, at least as i've always known and loved it, is dead in the water at this point. When we went out trick or treating it honestly felt like we were walking around during any other random night of the year and it just made me so sad to see Halloween as it is now, as opposed to how it was when I was a kid just 10 or so years ago. So I gotta ask, is Halloween dead or is it just dead in my town?

Even the trick or treaters that did come to our house were unfriendly, unhappy and they just kinda buzzed our doorbell far too many times, snatched their candy and were on their way, not even bothering to say trick or treat or thank us for the big boxes of Nerds we were doling out. That whole fun spirit of Halloween just seems to be gone for the most part. I suppose the world is or just seems to be such an evil place in the eyes of parents, which makes them limit their kids' trick or treating to shopping centers and friends' houses. The world just seems to be too unsafe these days for kids to go out knocking on stranger's doors like we did when I was a youngster and that just makes me feel so sad for the kids of today who will never know the fun of trick or treating on Halloween. I don't think the world really is any less safe than it was back 10 or 20 years ago, I just think that more people are more aware of how evil it is these days, with the internet and TV giving us unprecedented access into every case of pedophilia and child murder in the entire country. When you can look online and see that a handful of registered sex offenders are living on your block, I guess that's reason enough to keep your kids locked in the house on Halloween night. That's the sad reality of it and I believe it's that increased awareness of the evil that's lurking out there that has ruined this holiday more than anything else. Hell, if I had kids I sure as shit wouldn't allow them to roam free out there in the neighborhood. Still though, I hardly see the harm in walking house to house with them and protecting them from any potential threats or harm, which largely seem to be nothing more than teenage eggers these days (who, by the way, should all be given the death penalty without a trial).

So not only are parents not letting their kids out to trick or treat, by their sides or alone, but those same parents aren't even bothering to decorate their houses (perhaps cause of decoration thieves) or hand out candy themselves, as we witnessed when we went out last night. Like I said, most houses had their outside lights completely shut off and even when we did find houses that were handing out candy, we later realized during our candy check (ALWAYS check your candy!) that a lot of it was really old, some of it even clearly from a past Christmas. Yes, Christmas. The red and green Hershey Kisses were a dead giveaway, assholes.

It's just pretty apparent that most people simply do not care about Halloween anymore, which does put a damper on things for the rest of us. I will personally never lose my spirit but I can't help but be bummed out when I see barely any costumed kids coming up to my door on Halloween or when I try to go trick or treating myself and find nothing but locked doors and turned out lights. It makes me cry a little on the inside.

Oh well though, these days for me it's more about the whole month leading up to Halloween than it is that actual day and, thankfully being that I surround myself with this stuff all year, that spirit stays with me no matter the time of year. Such is the beauty of being a horror fan and the beauty of being a horror blogger is that I can help impart some of that spirit on my fellow fans all year round. So while Halloween may be over, fear not, the spooky fun lives on round these parts for as long as you guys and gals keep on reading!

Oh and in case you were wondering what we did after our failed trick or treating attempt, we sat around eating whatever candy we got that wasn't old and gross and watched the

Texas Chainsaw

remake. I love that movie, whether you do or not.