Is there anything better than having a few drinks and hopping online to buy some shit, inhibitions and little 'save your money for the electric bill' angels tossed right out the goddamn window and into oncoming traffic? It's just something you need to do every once in a while and being that i've spent the better part of the past month and a half blowing all my spare money on Christmas gifts for others, I think i've earned a bit of a drunken online shopping spree.

I've got the house all to my self tonight, the fridge is armed to the teeth with Pumking's and i'd say it's about time to head over to Amazon and rid myself of the $50 from this week's paycheck that I deposited into my checking account earlier tonight. It's been a while since i've bought myself any DVD's, so my goal tonight is to pick up as many kickass horror discs as I can for what i've got in my account. Join me on this journey, won't you, as I live update this post as I buy!




HOUSE 2 : THE SECOND STORY - $8.99

Earlier tonight I mentioned on Facebook how much I love the brilliant subtitle of this one and I got a flurry of responses from you guys gushing about your love of the movie. Truth be told i've never actually seen this sequel, but tonight I got all the convincing I needed to remedy that!




BEST WORST MOVIE - $8.49

Cannot stress enough how much I absolutely adore this documentary. Not sure how so much time has gone on between me seeing it for the first time and me adding it to my collection, but all feels right with the world now that i'm gonna own it. Fuck, I just used the word 'adore' didn't I? I think it's safe to say that buzz is starting to kick in.




BEREAVEMENT - $6.77

I've heard nothing but serious acclaim for this one but have yet to check it out. Couple the low price with the fact that the disc features a behind the scenes featurette directed by my boy Adam Barnick and i'm sold. Happy, Barnick?




KIDNAPPED - $15.00

I absolutely need to see this movie and cannot wait any longer. Fairly expensive blind buy, but i've got faith in this one. I know it's on Netflix Instant but the version on there is dubbed, with no way of changing that. Fuck that noise. This is being hyped up by pretty much everyone as a super dark and ultra bleak and brutal home invasion flick and that kinda film is right up my alley. I love home invasion movies, which is funny because my biggest fear in the world is somebody breaking into my home. Go figure!




SUPER - $10.82

Have I ever mentioned how much I love this movie? Ah to hell with it, I adore it! I know it's not horror but it just might be

Dawn of the Dead

remake scribe James Gunn's masterpiece, an incredibly oddball and violent movie with a surprisingly large heart. Shut up, crime!!

Hm, let's see where we're at ...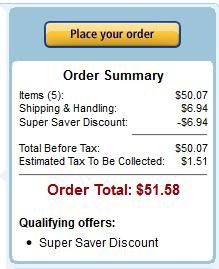 Well hot damn, couldn't have planned that out better if I was sober and I tried.

ORDER. PLACED.

That's about a wrap on this one. Time to get off the computer and resume drinking in a more comfortable location, where I won't be tempted to write up a slew of embarrassing blog posts. I think this is one drunken haul I won't regret making once morning comes. Then again, you never know until that time arrives!