A couple days back a few photos from the set of the upcoming

Maniac

remake hit the net, and they gave us our first look at Elijah Wood as Frank Zito, taking over the role Joe Spinell made so damn memorably sleazy back in the 80's. Naturally, fans were outraged over the sight of the photos because, well, Elijah Wood isn't exactly the first person who comes to mind when you think of a sleazeball killer who spends his days scalping chicks. It's a strange bit of casting, that's for sure, but i'm personally not gonna knock it till I see it. And besides, it was recently announced that the film will be shot mainly from the point of view of Frank, so who knows how much of Frodo we're actually gonna even see on screen.

Anyway, in an effort to get us all to relax and stop being so damned pissed off about this whole thing before we even see the movie, I want to instead have a little fun with the photos and play a little round of Caption This, so to speak. So take a look at the below photo of Wood stabbing one of his many victims from the set of the Alex Aja produced

Maniac

remake and come up with the funniest/most clever caption you can for it. Hopefully something funnier than this ...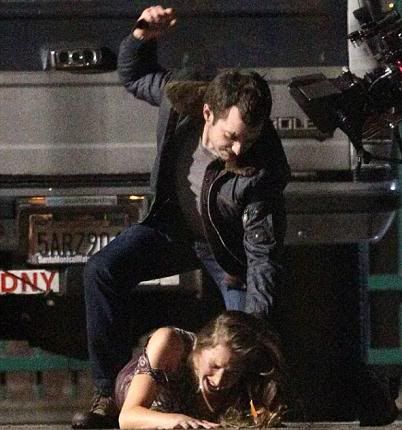 Say my feet are hairy one more time .... SAY IT!!



This is all purely for fun, so I don't really have a prize up for grabs here. But if someone submits a caption that really knocks me out of my seat, i'm not gonna rule out the possibility of sending a little gift package their way. It is the generous time of the year and I am feeling fairly generous at the moment, so submit your captions in the comments section below while I go look for a suitable potential prize for the winner. If nothing else, your cleverness will be posted here on the blog in the near future, so the whole world can appreciate it!