I think it's safe to say that there are very few people reading this right now that don't have at least some kind of childhood memory of reading

Creepy Magazine

, the beloved EC style comic book that ran from 1964 to 1983. While you may not remember the stories you read as a kid, you likely remember some of the eye catching cover arts that housed those stories, just as you can't get the images of video store VHS boxes out of your head. An unquestionably pivotal part of the success of

Creepy Magazine

throughout its 145 issue run can be tied to those lurid covers, which were frequently beautiful art pieces that simply demanded your attention. And your hard earned money.

Being that the

Creepy

run spanned nearly two decades of Christmas seasons, I suppose it was inevitable that the magazine from time to time used the season as a jumping off point for some stories of holiday horrors. There were several Christmas themed issues throughout the years, which had some seriously awesome artwork that oftentimes brought to life very dark and evil incarnations of our beloved Santa Claus. This morning, we look back at the best of the best of

Creepy Magazine

's Christmas issue cover arts!



ISSUE #25 - ART BY RICHARD CONWAY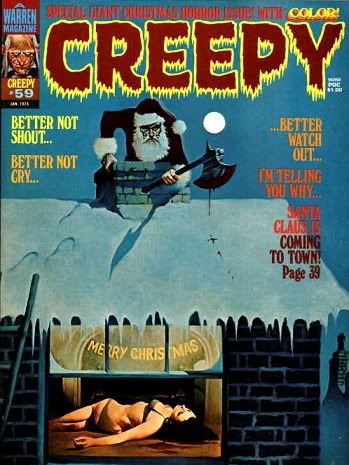 ISSUE #59 - ART BY MANUEL SANJULIAN



ISSUE #68 - ART BY MANUEL SANJULIAN


'
ISSUE #86 - ART BY KEN KELLY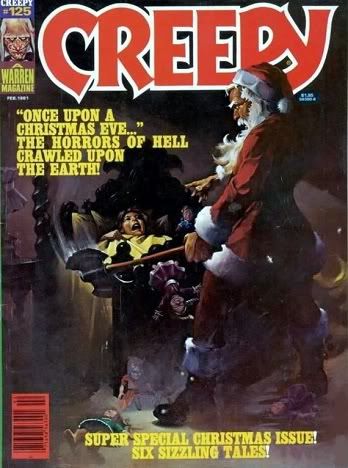 ISSUE #125 - ART BY KEN KELLY

Viva la

Creepy

!