Over on the Freddy In Space Facebook page, I promised that if the number of entries on the 2011 Christmas stocking giveaway reached 50 by the end of last night, i'd sweeten the pot and add some new goodies to the mix. With the total number of entries now approaching 60, i'm here tonight to live up to that promise. But rather than throw a bunch more little things into the stocking, i've decided to instead show my appreciation for all the entries by tossing in one mega epic awesome additional gift ...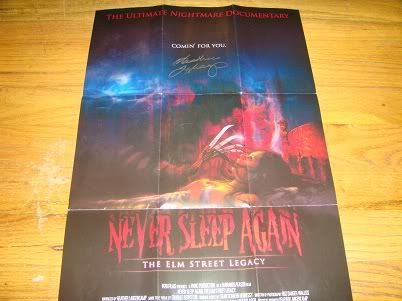 ... a limited edition 12x18"

Never Sleep Again

poster, signed by Nancy herself, Heather Langenkamp! These posters were available for a limited time when

Never Sleep Again

first hit DVD, and were included with the discs at an additional cost while supplies lasted, only through the official website. Obviously, that offer is no longer available these days. But, ya know, since i'm in a super giving mood and all, i've decided to part with mine and include it with all the other goodies in the stocking. Don't question me or I might change my mind.

So if you haven't yet entered, head over to the official giveaway post, check out what you can win and be sure to enter before midnight this coming Friday night! GO GO GO!!