Pressman Toy Corporation and Milton Bradley; they're two of the leading companies responsible for the family friendly games played with by children the world over. But in the 60's and 70's, when things didn't have to be so politically correct, would you believe that both companies put out toy kits that allowed kids to create their very own shrunken heads, just like the headshrinkers in the Amazon rain forest were doing at the time with real severed human heads?

The process of removing a person's head, sewing the eyes and mouth shut and then drying the head out until it looks like a tiny little creepy ass doll head hardly sounds like the makings of a do it yourself kit aimed for a core audience that spends most of their time watching cartoons, but nevertheless that's exactly the product both companies put out back in the 60's and 70's, respectively. So let's dig into the vintage toy box and take a look back at both the Pressman and Milton Bradley shrunken head kits, exports of times that toys like these make me wish like hell I grew up in!






Pressman's Witch Dr. Head Shrinkers Kit - 1960's



The pitch behind this one was that Pressman's toy makers headed out into the deepest darkest Amazon jungles on the hunt for a new toy, something for the cool kids who just weren't impressed by the thought of making their own food in a fake mini oven. What they came back with was this revolutionary kit, which allowed kids to commit the barbaric acts that Pressman's crack research team allegedly witnessed the headshrinkers carry out over there. Brilliant!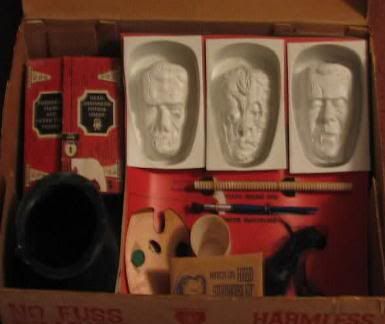 The kit came with 'powdered flesh' that was mixed and then poured into monster head molds, depicting the likenesses of Frankenstein, Dracula and some other melty faced abomination that may or may not be the Wolfman. Once the mix was hardened, the moldings could then be pulled and customized with provided hair and paints. 24 hours later, the heads would magically shrivel down to half their original size, providing their young customizer with a replica of a real life shrunken head. Pressman then encouraged kids to trade the severed shrunken heads with their "witch doctor" friends. Because, ya know, every group of young friends has one of those. Vern Tessio? Totally a witch doctor. Sincerely.



Check out this vintage commercial for the Pressman Head Shrinkers Kit before we move on to Exhibit B!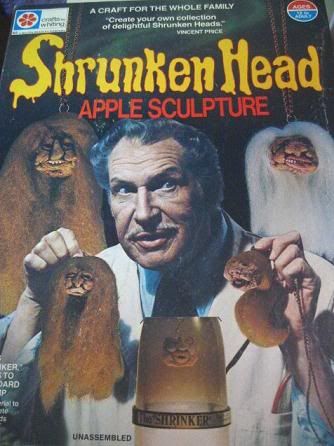 Milton Bradley's Shrunken Head Apple Sculpture Kit - 1975



The following decade, Milton Bradley set out to reinvent the head shrinking wheel, which they did with the help of genre icon Vincent Price ... and apples. The kit basically came with decorations like hair and beads (for eyeballs), a carving tool and a dehydrating device called "The Shrinker", which you would put your own carved apple into after letting it sit in a solution of water and salt for 24 hours. You would then attach the apple filled contraption to a lightbulb and wait until your apple shrunk and dried out (or set the house ablaze), approximately 30 additional hours. The apple heads were then ready to be painted and affixed with beads and hair to create, as Vincent Price himself states on the packaging, "your own collection of delightful shrunken heads". Delightful indeed, Mr. Price.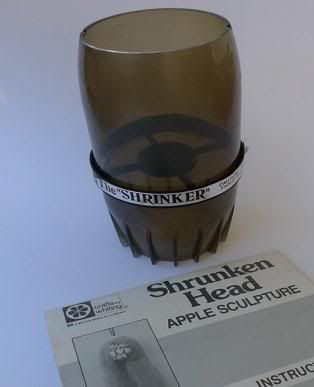 Though you really don't need a kit to turn an apple into a shriveled rotten apple, there's no denying that doing anything with Vincent Price by your side makes whatever you're doing far cooler. Especially creating shrunken heads.

Ah, the good ole days.