If I could send each and every one of you reading this right now a Christmas gift to show my appreciation for you continually reading and somehow enjoying my daily stupidity believe me, I totally would. But it's simply not in my budget to do so, which I guess is a good thing because it means more than five people come around these parts each day. It's actually six these days, for the record.

So though I can't send out a gift to everyone who reads this here blog, i've drunkenly put something special together over the course of the past couple nights, which I can at least award to one of you. Better than nothing, right?

What i've concocted is the first annual Freddy In Space Christmas stocking, a collection of goodies i've found around my house and stuffed into a $1 stocking from Target, which I had Jen crudely glue and glitter a commemorative label onto. Lucky for you guys and gals, I have some pretty cool shit lying around my house, as you'll soon see.

If you should choose to enter this giveaway, here's what you will win, all housed inside the very special one of a kind Freddy In Space 2011 Christmas stocking that has left my kitchen and my cats covered in stripper glitter. Only for you folks, only for you.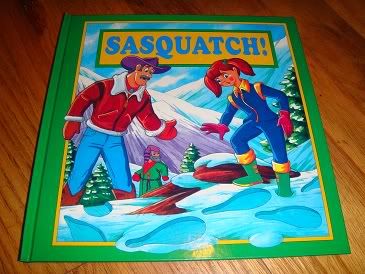 The heartwarming dollar store children's picture book

Sasquatch!

, which tells the tale of an old bearded prospector who straps monster boots to his feet and makes giant snowprints in the mountains that convince the mountain folk that Sasquatch has been roaming around the area. Oops, totally spoiled that one.



A one of a kind drunken drawing of Krampus, the mythical Alpine creature that follows Santa along on his Christmas journey, collecting the bad boys and girls and slaughtering and eating them. As you can see, I have no artistic talent, and it only gets worse after a few adult beverages.



An Alfred Hitchcock doll, handmade by artist Bob Dix. I bought a bunch of these from Bob with the hopes of selling them, but have ended up giving them away to friends in the wake of nobody buying them like I expected them to. I love these things and i'm glad i've been able to spread them around, whether i've made any money or not. Truth be told, it was never about making any money so much as it was sharing an artist's work that I myself am a fan of.



An Ultimate Warrior trading card (now that's horrifying!),

Trick 'r Treat

holographic coaster, Low Budget Pictures Ernest sticker that suggests Ernest watches LBP's films while rotting in hell & Cult Collectibles'

Beyond

trading card, exclusive to their

Beyond

bobblehead set.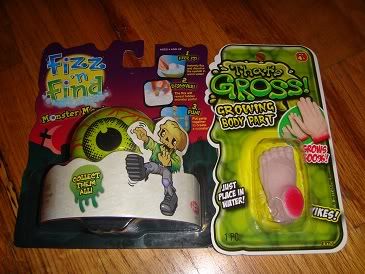 Just add water fun; an eyeball that turns into a zombie monster & a severed foot that turns into ... a bigger wetter severed foot. Shit morphing into other bigger shit when placed in water; if that aint the American dream, then my whole life has been a lie.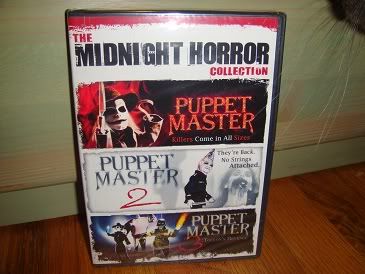 Puppet Master

1-3 on DVD! Already had the full

Puppet Master

set when a co-worker bought me this collection last year and i'd rather re-gift it than have it rot away and collect dust on my self, next to its superior brethren. My cat totally whisker-bombed this shot.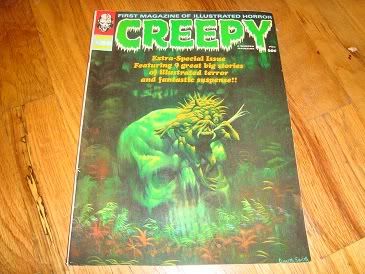 Issue #35 of

Creepy Magazine

, featuring the tale of a Nazi scientist who creates a legion of zombie warriors!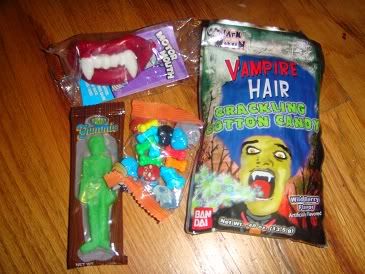 Wouldn't be a stocking without candy and it wouldn't be a Freddy In Space stocking without sugary bones, a gummy skeleton, wax vampire teeth & blue cotton candy Edward Cullen hair.



Scented Dracula marker, Great Pumpkin hot chocolate and Bath & Body Works Halloween clearance hand sanitizer. Clean hands, a good smelling marker and tasty hot cocoa ... what more do ya need?!



A

Hostel

action figure, with swappable arms and weapons. This is another thing I bought a whole bunch of with the hopes of selling a few years back. In case you couldn't tell, I suck when it comes to selling things. Thankfully, I love to give things away for free.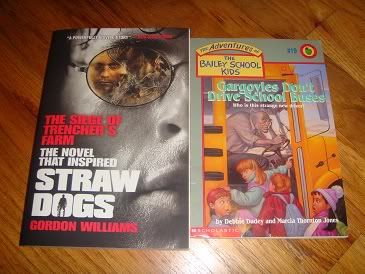 The recently released

Straw Dogs

book, sent to me as an advanced reader copy that I never reviewed or even read, and the epic children's book

Gargoyles Don't Drive School Buses

, which teaches you that ... gargoyles don't drive school buses. Valuable life lesson, kids.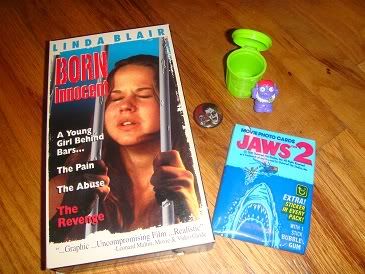 A VHS copy of the Linda Blair lesbian rape classic

Born Innocent

, a London 1888

Evil Dead 2

pin, a

Trash Pack

figurine & a pack of vintage

Jaws 2

trading cards, complete with rock hard and super sharp stick of 70's gum!



Satan's Sideshow barf bag and a

Thing

remake cup ... which is a fitting pairing being that a viewing of

The Thing

remake will require a barf bag. Cause ... it sucks so much that it'll make you sick. Fact.

And that about wraps her up. If I find anything else lying around, i'll throw it in before I send this baby out but for now, this is all i've got. To enter to win the 2011 Freddy In Space Christmas stocking, all you've gotta do is leave a comment below with your e-mail address and the title of your favorite Freddy In Space post of 2011, just so I know that you're a regular reader ... or at least so that I can see that you're crafty enough to look through the archives and pretend you're an avid reader. That's good enough for me. Entries will be accepted until midnight next Saturday morning, December 17th, which will give me enough time to get this out to you by Christmas. Good luck to all and from the bottom of my heart, thank you for reading and supporting my oftentimes drunken ramblings. You keep reading, i'll keep writing!!