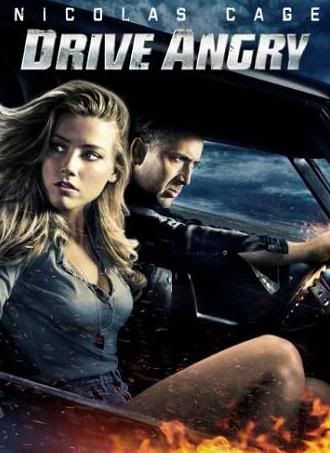 Just like I said when I posted my brief thoughts back when I saw it in the theatre, I know it's not horror but once again I simply cannot resist mentioning Drive Angry. Reason being, it just hit DVD & Blu-ray today. In fact, it not only hit DVD & Blu-ray but also 3D Blu-ray, for those who are into that sorta thing. You can go back in time a couple months and read my mini review if ya want my thoughts or I can just leave it at this ...

Drive Angry is a fuckin' wild and totally out of control blast of a movie. To the males reading this right now, I cannot urge you enough to pick up a copy, gather some friends together and have one hell of a blood soaked and action packed night. It's got everything a man could ever want from an action flick; Nic Cage in the kinda role he was born to play (a badass action hero with hair that kicks as much ass as he does), Tom Atkins in the kinda role he was born to play (a super cool sheriff with a majestic mustache), William Fichtner in the kinda role he was born to play (a scene stealing Satan), Amber Heard in the kinda role she was born to play (a sexy as all hell chick with a mean streak) as well as guns, fast cars, devil worship, gore, tits, ass and even the consumption of booze from a hunk of a dude's skull. What the fuck are you waitin for!?

Get your ass in gear and DRIVE ANGRY today!!