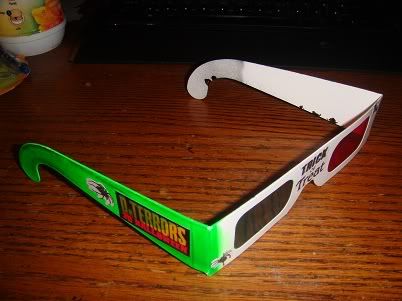 This past weekend I received a little package from my boy James Harris, who runs the horror blog Dr. Terror's Blog of Horrors. I guess I didn't need to clarify that it's a horror blog, eh? Anywho, inside the package was a pair of Dr. Terror's 3D glasses, one of only 55 pairs handmade by James and sent out to horror community friends of his. A pretty cool and unique little blogging collector's item and I was totally honored to be one of the select few that was sent a pair, but at the same time I was kinda wondering to myself what James had up his sleeve here. Why exactly did he make 3D glasses in the first place?




Here we are a few days later and everything makes complete sense now, as James just launched a little 3D Halloween horror special on his blog, a compilation of images from horror movies that were never in 3D, which James has converted into 3D. So that's what those Dr. Terror's exclusive 3D glasses were for. And here I was thinking James was just being all random and shit!

Obviously, if you're not one of the super cool few who was sent a pair, you can see the images in three dimensions by slapping on any ole pair of 3D glasses you might have laying around your house, such as the ones you got from that

Nightmare on Elm Street

Collection DVD box set. For what it's worth though, I think wearing a pair of red and blue Dr. Terror's spectacles gives you a lot more street cred in the horror community. Just sayin.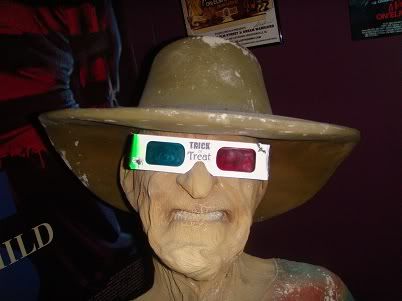 See? Even Freddy himself agrees.

Head over to Dr. Terror's Blog of Horrors to check out the 2011 Halloween Special, in three glorious dimensions. He even included several three dimensional clips from horror movies that were actually in 3D but which you probably never actually got to see in 3D, such as the third installments in the

Jaws

and

Friday The 13th

franchises!

Awesome idea for a Halloween post James and I love that you went out of your way to make this even more special by making your own 3D glasses. I've seen just about everything given the 3D treatment in the last couple years, but I can't say i've ever seen a blog post in 3D. You sir would totally win my creative blogger of the year award, if I were to ever give out such an award!