It seems like years ago that I first saw this image of toy company Amok Time's Tarman action figure. In fact, it probably was years ago. Listed as 'coming soon' on the website for as long as I can remember, it seemed like the day would never actually come when we'd be able to own our own mini version of the loveable tar covered zombie from

Return Of The Living Dead

. Well folks, the wait is over. At long last, it is PARTY TIME!!!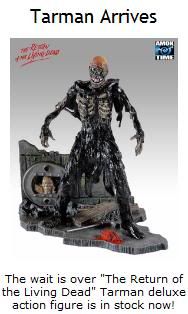 Just got an e-mail from Amok Time notifying me that the Tarman is now in stock and will begin shipping this weekend. This is the first ever officially licensed

Return Of The Living Dead

action figure and it comes packaged with a Trioxin canister base as well as a chewed up brain. In addition, the plastic Tarman's jaw actually opens and closes, giving you the ability to have him bite the heads of all the other action figures in your collection. Might I suggest feeding him that oh so creepy Justin Bieber doll for lunch?

Head over to Amok Time to pick up your own Tarman for $21.99!!